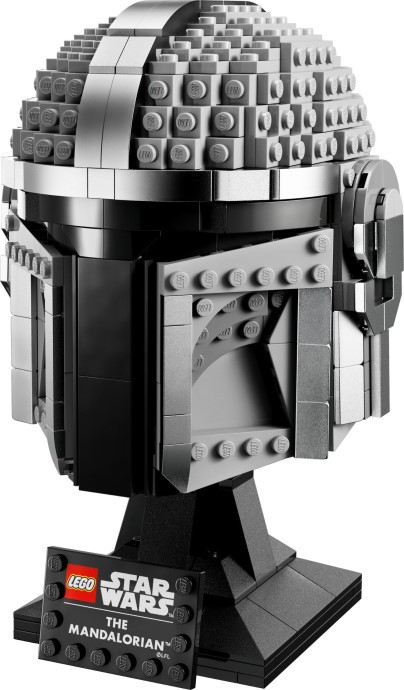 Introducing The Mandalorian Helmet: A LEGO® Star Wars™ Masterpiece
Star Wars enthusiasts and LEGO collectors alike can rejoice as the iconic Mandalorian Helmet (75328) joins the ranks of LEGO's buildable replica sets. This highly detailed model from the Helmet Collection series boasts an impressive 584 pieces and offers fans of the cult-favorite Star Wars: The Mandalorian series a chance to channel their inner bounty hunter while building and displaying a stunning homage to the legendary helmet.
A Creative Challenge for Star Wars Aficionados
This expertly crafted LEGO model embodies the essence of the beloved character with its intricate design, beautifully capturing the metallic sheen of beskar armor. Builders will appreciate the drum-lacquered elements combined with various shades of gray bricks, allowing them to seamlessly recreate the helmet's distinctive contours and realistic appearance. Designed specifically for adults aged 18 and above, this awe-inspiring set provides a unique creative challenge that encourages meticulous attention to detail.
A Proud Display for Your Galactic Collection
Once completed, The Mandalorian Helmet proves to be an eye-catching centerpiece for your home or workplace. With dimensions at 19.1 x 35.4 x 9.1 cm (7.5 x 13.9 x 3.6 in), this compact model will surely make a statement without taking up too much space. The brick-built display stand and nameplate add to its overall appeal – making this artistic rendition truly worthy of the Mandalorian title.
Detailed Step-by-Step Instructions at Your Fingertips
Whether an experienced LEGO builder or new to this galaxy-inspired hobby, all builders can excel in assembling the helmet with confidence using the step-by-step illustrated guide included in the set. And don't worry, fellow Star Wars buffs! This fantastic Mandalorian Helmet is just one of many new-for-March-2022 LEGO Star Wars helmets available to grace your collection.
The Perfect Gift for Star Wars: The Mandalorian Fans
At a reasonable price-to-piece ratio of 10.3p / 12.0c / 12.0c, The Mandalorian Helmet (75328) makes a superb gift idea for any occasion. Whether it's a birthday surprise, holiday treat or special present, this exquisite LEGO Star Wars replica set is certain to delight and impress fans and collectors of all ages. So why not dive headfirst into the sensational world of LEGO Star Wars and embark on an unforgettable journey to a galaxy far, far away?