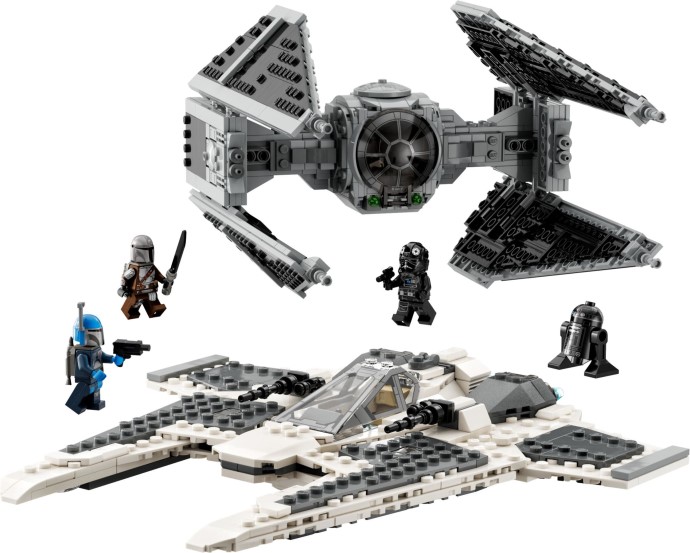 Engage in Intergalactic Battles with the Mandalorian Fang Fighter vs TIE Interceptor LEGO Set
Get ready for an interstellar adventure with LEGO's latest addition to their Star Wars collection, the Mandalorian Fang Fighter vs TIE Interceptor set (75348). Perfect for fans of the hit Disney+ series The Mandalorian, this brick-built playset allows kids aged 9 and up to experience thrilling moments from Season 3 while also sparking their imagination to create their own epic battles.
A Stellar Playset Packed with Authentic Features
This awe-inspiring LEGO set features two iconic starfighters that are guaranteed to provide hours of immersive play – the cutting-edge Mandalorian Fang Fighter and the classic Imperial TIE Interceptor. Both ships are designed with meticulous detail to capture their on-screen appearance, each featuring an opening minifigure cockpit and a pair of powerful spring-loaded shooters.
Additionally, the Fang Fighter boasts a weapon storage compartment to house your fighter's arsenal. With this 957-piece build, excitement awaits behind every corner!
Enliven Your Collection with Iconic Characters
Beyond the captivating starfighters, this set also comes with four much-loved figures from The Mandalorian universe. The Minifigs include The Mandalorian himself wielding a brand-new darksaber design, a formidable Mandalorian Fleet Commander equipped with a blaster pistol and jetpack, a skilled TIE Pilot packing a blaster pistol, and last but not least, an all-new R2-E6 LEGO droid figure that's exclusive to this set.
Innovative LEGO Builder App for Enhanced Building Experience
The accompanying LEGO Builder app provides an intuitive building adventure perfect for youngsters keen on exploring new challenges. This innovative app allows users to zoom in and rotate 3D models to visualize every aspect of their build, save sets, as well as keep track of their progress. Say goodbye to missing steps or lost instructions – everything is neatly organized and easily accessible within the app!
Expand Your LEGO Star Wars Universe
Since 1999, LEGO has been delighting fans by recreating iconic Star Wars starships, vehicles, locations, and characters in brick form. The Mandalorian Fang Fighter vs TIE Interceptor set serves as the perfect addition to any fan's growing collection, bringing characters and scenes from the beloved series to life in a tangible way. So whether you're buying this as a gift or treating yourself, immerse yourself in a galaxy far, far away with this exhilarating LEGO Star Wars set and start building your own intergalactic empire today!