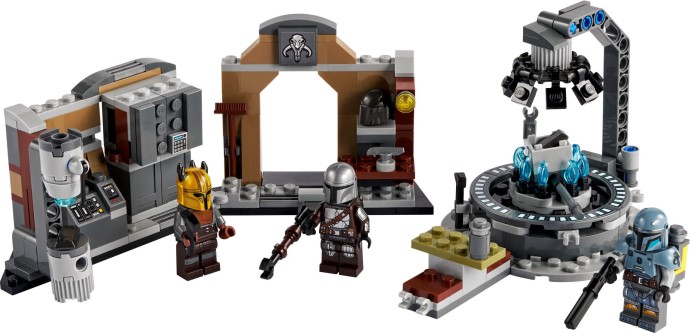 Explore the Art of Beskar Crafting with The Armorer's Mandalorian Forge
Indulge your inner Star Wars enthusiast and engage in an unforgettable building experience with the LEGO® Star Wars™ The Armorer's Mandalorian Forge (75319) set. The impressive design, intricate details, and numerous features will provide endless hours of creative and imaginative play. This magnificent LEGO set includes 258 pieces and boasts an attractive price-per-piece ratio, making it an ideal gift for fans aged 8+.
A Must-Have Addition to Your LEGO Star Wars Collection
The Armorer's Mandalorian Forge is a marvelous addition to the ever-popular LEGO Star Wars theme and serves as an excellent representation from the hit series, The Mandalorian. It impeccably captures the atmosphere of this iconic universe while providing interactive functionalities desired by builders of all ages.
Thrilling Building Experience and Engaging Play Possibilities
Designed by Jan Neergaard Olesen, the set comprises of a variety of enchanting elements that elevate this captivating build. The forge itself is adorned with the mythosaur emblem at its entrance while featuring detachable sections complete with a rotating exhaust hood, melting pot, hologram display, ingenious machinery, hidden compartments, and an array of mesmerizing accessory elements.
The set holds an abundance of accessories catering to builders' ingenuity including three beskar bars, a thermal detonator, forged weapons, a blaster, an extra Mandalorian helmet and even a broomstick!
Three Unique and Coveted Minifigures
This awe-inspiring set comes with 3 new-for-September-2021 minifigures to deepen your Star Wars adventures – The Mandalorian, Paz Vizsla, and The Armorer. These highly sought-after characters are equipped with an arsenal of cool weapons and accessories, such as a special Mandalorian rifle and two jetpacks, thus amplifying their potential for creative play across the galaxy.
Accessible Building Instructions for Novice Builders
Worry not if you're considering this LEGO set as a gift for someone new to the magical world of LEGO building. Every purchase includes illustrated step-by-step instructions to help novice builders assemble the set with confidence. Furthermore, LEGO bricks and pieces comply with strict industry standards, ensuring compatibility and secure connections during play and display.
An Ideal Gift for Fans of All Ages
The Armorer's Mandalorian Forge (75319) is the perfect gift for Star Wars aficionados young or old, featuring engaging elements that encourage hands-on creativity while allowing fans to recreate memorable scenes from the series or concoct their own unique tales. Measuring 3.5 x 7 x 6.5 inches when assembled, the completed forge serves as an attractive display piece in anyone's bedroom or playroom, allowing players to admire their handiwork as they eagerly await their next Star Wars building adventure.