Interested in what goes into an episode of Bricks of the Dead? No? Well too bad, because here's some behind the scenes information anyway. Be forewarned, it's rather lengthy and probably a bit masturbatory, but what did you expect?
Planning & Writing:
Believe it or not, there is a plan behind Bricks of the Dead. I'm a pretty organized fellow (maybe anal retentive is the right word), and I like to plan. I keep everything in Google Docs, include my outline, character bios, scripts, bonus information, style sheet, etc. I use Google Docs because it allows me to work on my comic from anywhere with a computer and internet access. I actually do a lot of my scripting on my lunch breaks at work.
As far as overall planning is concerned, I keep a running list of plot points, character traits, character histories, relationship, places, etc. My plot summary is something like an outline, except a little less structured. I tend to outline based on character groups: Stewart, Cheryl, Shannon, Sam, and Murphy will be doing A, B, and C; while Gene, Ted, and Jeff do X, Y, and Z. As groups form, combine, and split up they get their own branches on the plot tree. It's not a perfect system, but it works pretty well.
My plot outline is also very fluid. Things that I plan to do frequently get mutated into something else, or pushed ahead or back for a variety of reasons. Usually this is because I rethink where the story is going an either think of something that would work better, look cooler, or flesh out the characters more. Plot points I abandon get saved for later (you never know when writer's block will strike, after all).
I script Bricks of the Dead using a pretty basic template (I believe it's more or less what's used for movies and TV shows). I try to follow regular screenwriting format, with tweaks here and there such as the publication date and what status that particular episode is in (scripted, shot, etc.). Here's an example of a recent episode:
Episode 133 (2011-07-06 – Shot/Edited/Published)
Panel 1
Ext. City Street – Day
Zombies are milling about outside.
Panel 2
The door open and Sam runs out.
Panel 3
SAM
(Running)
Ohmygod! Ohmygod! Ohmygod!
Panel 4
A couple of zombies notice Sam
Panel 5
The zombies start to follow Sam.
Panel 6
Int. Apartment – Day
Murphy is looking out the window.
MURPHY
It's working! They're already following him.
If you compare the script to the actual episode, you'll notice that I made a few changes here and there. I do this quite a lot once I've got my photography completed. What looks good in a script doesn't necessarily translate well into the comic, so I try to stay adaptable.
Building and Organizing:
Fans of LEGO® tend to complain a lot about organizing. It's time consuming, boring, and – so long as your collection continues to grow – requires constant attention. I, however, don't complain a bit about organizing. I love it. I can happily sit in my basement for hours picking through bricks and putting them into various containers. As such, my organization system is in constant flux and I continually go through and re-sort to add more and more specificity to things.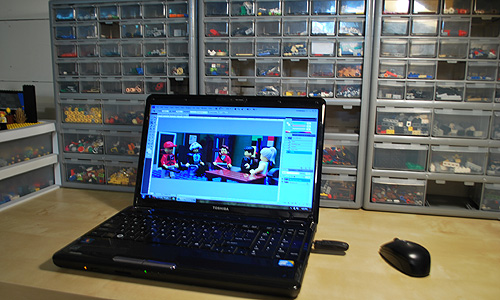 That said, I am not burdened with an overabundance of time, and my budget is quite tight, so I can only blow so much on boxes and drawers, so my collection is never as organized as I'd like it to be.
I use a mix of stock LEGO® sets and my own creations. I tend to use stock sets primarily for exteriors, and I'm especially fond of the modular building series (Cafe Corner, et al) for backdrops. I'd like to get into building more microscale buildings for exterior establishing shots. This is my first try so far (lots of room for improvement, I know):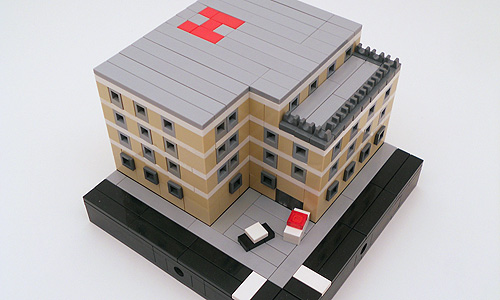 I like to build interiors myself, since I need lots of room to spread out. When I build rooms I generally build them like a movie/TV set, that is to say, 2/3rds of a room or so. This allows me plenty of options for different camera angles.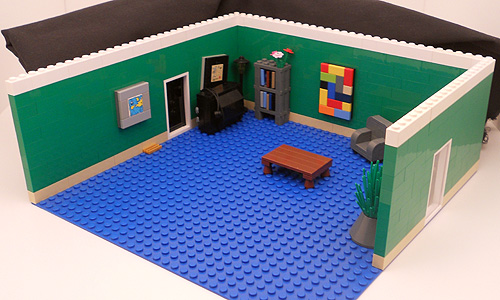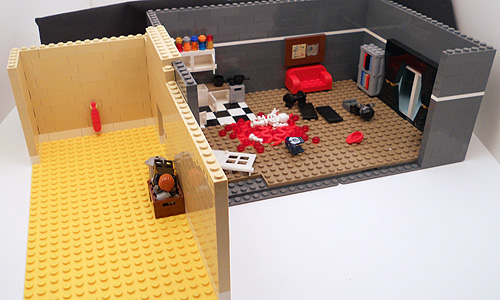 Photography:
I shoot the series on a Nikon D60, using a homemade lightbox for most scenes. I built my lightbox from foam core board and masking tape. I use no-name worklights from Ace Hardware for the lighting. I generally shoot with two lights bounced off the ceiling of my lightbox, but occasionally add in a third that's more direct for shadows.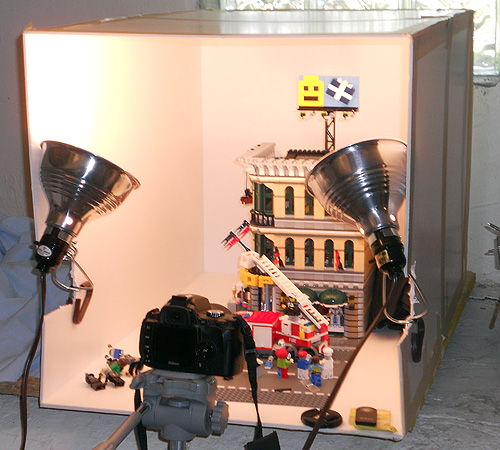 This is a big improvement from where the strip began: on a piece of wood on top of my washer and drier. Seriously: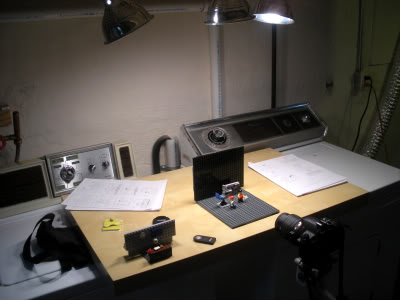 When I'm filming I typically use a black cloth behind my model to keep light from showing through the gaps between pieces. This is a technique I developed fairly recently, so you'll probably find older comics with background light bleeding through. This makes me sad.
Very occasionally I'll setup a larger street scene that won't fit in my lightbox. For the larger scene I generally setup on a card table and bounce my lights off some shiny reflective material that I got from AutoZone (they go in your windshield to keep your car cool in the summer while it's parked).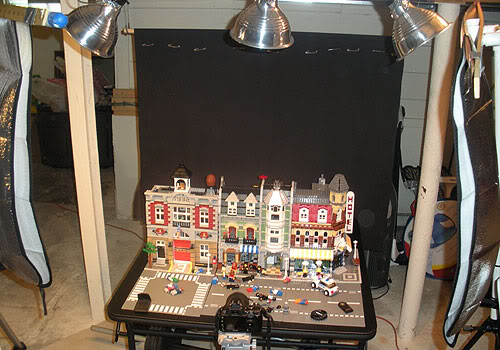 Since Bricks of the Dead aspires to be dramatic and scary (whether it's successful is a whole other matter), I like to shoot at or around eye level with characters, using quite a few close-ups.
Editing:
I edit every episode in Photoshop CS4 using a six step process:
I go through my photography for the episode, and choose which shot to use for each frame.
Once I have my photos picked out, I crop and edit them individually. Unlike some other webcomic authors, I never use an image without cropping it down to size, as I always shoot much wider than I need to give myself plenty of wiggle room. I try to keep the edits to a minimum, usually only a bit of color correction and minor sharpening. I generally complete the first two steps on a laptop in the basement. I do the rest on a desktop since it's considerably faster and easier to work with (a dual monitor setup is a thing of beauty).
Once all the images are finalized, I import than into my comic template, add the episode number, and apply a border around each frame. These images are placed into a "Panels" folder in the layers menu (always organize your layers, kids).
Next, I add dialog and word balloons. These layers go into a "Dialog" folder.
Finally, I add any effects required, such as blood spatter, muzzle flashes, and sometimes editing out certain artifacts (like sticky tack used to hold the characters in place when they're not standing on studs). These layers are placed in an "Effects" folder.
After a quick read through or two to check for errors and typos, the final image is saved and uploaded to my website, where I write up the Zombie Cliché Lookout and add any other notes of interest, and schedule the episode.
Advertising and Community Involvement:
After I publish an episode (or a blog, new page, etc.) I always put up a link on Bricks of the Dead's Facebook page and Twitter feed (if you don't already, you should totally follow both). Getting involved with people who read my strip is really important to me, so I try to give them a few different ways to find and connect with the comic (I need to get more active in Flickr as well).
My favorite area for interacting with readers is the comments section of each comment. I'm always excited to check my email on mornings when comics are published because I know there will be a few comments waiting for me. I always read every comment, and reply to most. It's really fun to see what people think of the latest episode and where they think the story is going next. Plus I just love talking to people about zombies, especially when they're as passionate about the subject as I am. Bricks of the Dead has some fantastic commenters.