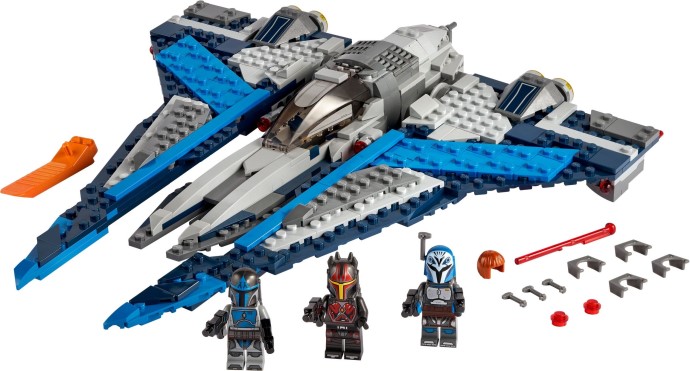 Introducing the LEGO Mandalorian Starfighter Set
The Star Wars universe is chock-full of incredible spacecraft and iconic battles, and now you can bring the thrilling action from everyone's favorite space opera right into your home with this brand new set: The Mandalorian Starfighter (75316). This superbly-detailed LEGO creation is inspired by the legendary Mandalorian Starfighter that features prominently in the fan-favorite animated series, Star Wars: The Clone Wars.
A Detailed Buildable Model
This meticulously crafted LEGO set comes with a total of 544 pieces that come together to form a highly-detailed representation of the famous ship. With an impressive wingspan and sleek design, budding Jedi and Sith enthusiasts alike will appreciate the adjustable wings which can be rotated vertically for landing or folded down to mimic an authentic flight formation. The buildable starfighter also comes equipped with 2 stud shooters, 2 spring-loaded shooters, and an opening cockpit that can accommodate up to two LEGO minifigures.
Stellar Minifigures
No intergalactic adventure would be complete without some beloved characters along for the ride. The Mandalorian Starfighter set includes three new-for-August-2021 LEGO minifigures: Bo-Katan Kryze, Gar Saxon, and a Mandalorian Loyalist. Each character comes complete with their own blaster pistol, as well as jetpacks for added playtime excitement. These thrilling additions allow children to recreate epic battles between iconic Mandalorian warriors while exploring their LEGO collections in brand new ways.
An Accessible Adventure for Young Fans
This sizeable set makes for an ideal gift for the creative young padawan in your life. Recommended for builders aged nine and up, the LEGO Mandalorian Starfighter set includes detailed, step-by-step instructions that make the task of constructing the model a breeze for beginners. Furthermore, the finished assembled product, which measures approximately 6 cm high, 33 cm long, and 30 cm wide, makes for an impressive display in a child's room or even a collector's shelf.
Galactic Fun for Everyone
With the Mandalorian Starfighter set, LEGO continues to expand its popular Star Wars theme while offering delightful sets to engage fans of all ages. Whether you're looking to recreate iconic scenes from throughout the galaxy or create your own epic space-faring adventures, this set is an excellent addition to any collection.
LEGO has been pushing the boundaries of creativity and quality since 1958 when they first started producing brick sets that connect effortlessly and securely. Fast forward to today, and their Star Wars deployments still live up to those original standards of excellence in both safety and design. So go ahead, explore the far reaches of the galaxy with this thrilling new Mandalorian Starfighter set – may the Force be with you!