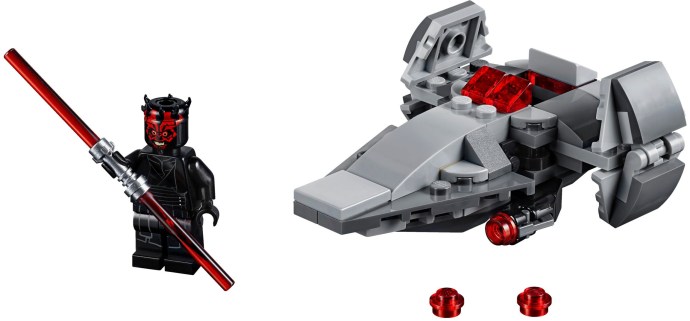 Experience the Dark Side with Sith Infiltrator Microfighter
Enter the menacing universe of Sith Lords with the LEGO® Star Wars™ 75224 Sith Infiltrator Microfighter set. This building kit pays tribute to one of the most iconic spaceships in the Star Wars saga, Darth Maul's Sith Infiltrator. Developed as part of the Series 6 line-up, it offers endless hours of creative and imaginative play for all fans of this classic franchise.
Specifications to Impress Your Inner Jedi
The Sith Infiltrator Microfighter comes with an impressive arsenal, featuring 92 LEGO pieces, ensuring a fun and engaging building experience. Suitable for ages 6 and above, its dimensions measure 14.1 x 12.2 x 4.6 cm (5.6 x 4.8 x 1.8 in), making it a compact, yet highly detailed model for display or play. Weighing a mere 0.1Kg (0.22 lb), it's lightweight enough to carry with you so that you're always ready for a recreation of epic Star Wars battles.
A Dark Presence: Darth Maul Minifigure
No Sith Infiltrator would be complete without its commander – this set includes an authentic Darth Maul LEGO® Star Wars™ minifigure. The fervent and powerful villain comes armed with a double-bladed Lightsaber to showcase his skills and expertise in the dark arts of combat.
Functionality Fit for Galactic Domination
This immersive building toy features 2 stud shooters and space for Darth Maul to stand on top, ready to ambush any unsuspecting opponent. Its design allows you to recreate memorable scenes from the Star Wars™ blockbuster movies or conceive your own thrilling adventures!
Battle for Control in the LEGO® Star Wars™ Galaxy
Enhance your experience even further by engaging the Sith Infiltrator Microfighter in a face-off against the 75223 Naboo Starfighter Microfighter. This interstellar clash will decide the fate of the LEGO® Star Wars™ galaxy and provide endless possibilities for storytelling and imagination.
Affordable Fun for the Force-sensitive Enthusiast
The Sith Infiltrator Microfighter comes with a reasonable recommended retail price (RRP) of £8.99 / $9.99 / 9.99€, providing a great value with an affordable price-per-piece cost of 9.8p / 10.9c / 10.9c. Don't miss out on this opportunity to expand your Star Wars collection with this iconic set designed by Jan Neergaard Olesen, released in 2019.
Get ready to experience the force like never before, with countless hours of fun and enjoyment exploring the dark side of the galaxy. Build and play today with the LEGO® Star Wars™ 75224 Sith Infiltrator Microfighter set! May the Force be with you always!