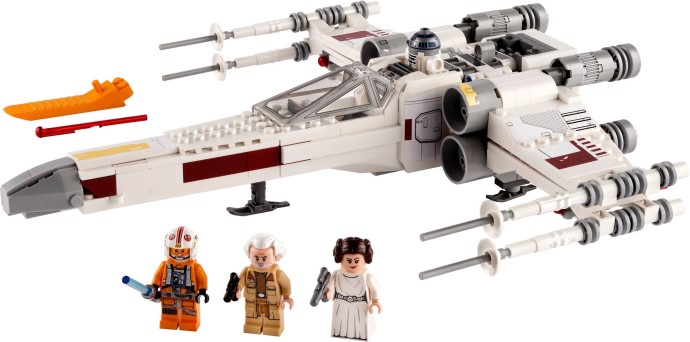 Discover the Magic of Luke Skywalker's X-wing Fighter
Embark on an intergalactic adventure with the LEGO® Star Wars™ 75301 Luke Skywalker's X-wing Fighter, a masterfully crafted set that provides endless excitement for young and old fans alike. The set incorporates intricate details from the iconic spacecraft featured in the classic Star Wars trilogy, making it a standout addition to any LEGO enthusiast's collection.
A Perfect Building Experience for Star Wars Enthusiasts
Designed for ages 9 and up, Luke Skywalker's X-wing Fighter offers a challenging yet rewarding building experience that ignites creativity and fuels imaginative play. The set consists of 474 pieces, providing hours of entertainment as you construct the legendary starfighter. Once assembled, the X-wing model measures 38.2 x 26.2 x 7.1 cm (15 x 10.3 x 2.8 in), a perfect size for displaying in your room or engaging in epic space battles.
Experience Action-Packed Features and Authentic Details
The LEGO® version of Luke Skywalker's X-wing Fighter is packed with features that enable dynamic play scenarios while staying true to the iconic spacecraft's design. Builders can enjoy features such as an opening minifigure cockpit with space for R2-D2, wings that switch to attack position at the touch of a button, retractable landing gear, and two spring-loaded shooters. These engaging functions encourage immersive storytelling and give way to countless creative scenarios.
Iconic Minifigures for Endless Play Possibilities
Luke Skywalker's X-wing Fighter comes with four highly detailed minifigures: Luke Skywalker, Princess Leia, General Dodonna, and everyone's favorite droid, R2-D2. These beloved characters are armed with weapons, including Luke's lightsaber, bringing the thrilling action of the Star Wars universe to life. The combination of classic characters and an iconic spacecraft makes for hours of engaging role-play that Star Wars fans will relish.
Join the Legacy of LEGO® Star Wars™ Sets
Since 1999, LEGO has been offering fans the chance to dive deep into the world of Star Wars with its extensive collection of unique building sets. LEGO Star Wars is now one of its most successful themes, catering to fans young and old with a diverse range of models inspired by various vehicles, characters, and locations within the saga. Luke Skywalker's X-wing Fighter is no exception as it remains an ideal gift for aspiring Jedi builders and seasoned collectors alike.
A Building Adventure Fit for a Jedi
Assemble your very own Luke Skywalker's X-wing Fighter with the detailed instructions provided in this set and be guided seamlessly through your building adventure. Whether constructing together or alone, this LEGO® Star Wars™ 75301 set is a must-have for any space enthusiast who appreciates the perfect blend of creativity, challenge, and intergalactic fun.