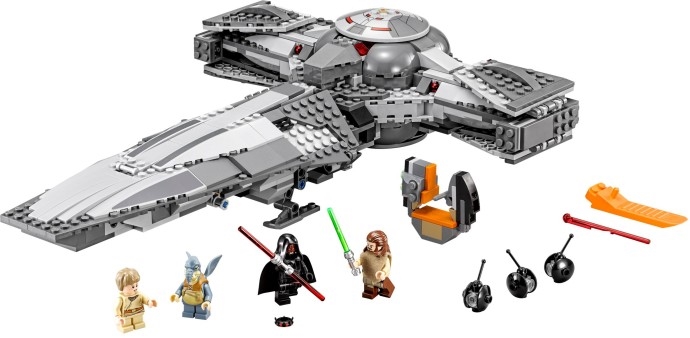 Explore the Dark Side with the LEGO Star Wars Sith Infiltrator Set
Dive into the world of intergalactic adventure, treachery and lightsaber battles with the LEGO Star Wars Sith Infiltrator set (75096). This set, inspired by Episode I: The Phantom Menace, features an advanced model of Darth Maul's personal starship equipped with all the tools a Sith Lord may need to carry out his master's nefarious schemes. With 662 pieces, this intricate replica is perfect for LEGO enthusiasts and Star Wars fans aged 9 to 14.
A Sinister Spacecraft
The dark and menacing design of the LEGO Star Wars Sith Infiltrator features retractable landing gear, folding wings, and an opening cockpit that can accommodate one minifigure. The spaceship also has two front and rear-loading spring-loaded shooters for added playability. Track your enemies swiftly with the Droid probes' release function and intercept your target using the detachable Sith Speeder.
Iconic Minifigures
Battle between the forces of light and darkness with four iconic minifigures included in this set: Darth Maul, Qui-Gon Jinn, young Anakin Skywalker, and Watto. Not to mention, everyone's favorite astromech droid – R2-D2! Each character comes with their respective weaponry – Darth Maul's notorious double-bladed Lightsaber and Qui-Gon's singular Lightsaber – allowing you to recreate thrilling duels from the movies.
Action-Packed Playtime
Put your tactical skills to the test by deploying Droid probes from the Sith Infiltrator to locate Jedi Master Qui-Gon Jinn and young Anakin Skywalker. Load up the spring-loaded shooters on either front or rear sections of the starship and engage in epic battles. Utilize the electrobinoculars element to scout your surroundings in search of the enemy. Once spotted, hop on the Sith Speeder and chase your foe for an exciting showdown.
Recreate the Intensity of Star Wars
The LEGO Star Wars Sith Infiltrator set (75096) is a must-have for fans looking to delve into the captivating world of The Phantom Menace. Build and display its impressive design, or ignite countless adventures with its detailed features and iconic characters. Embrace the power of the Dark Side as you relive some of the greatest lightsaber duels in the Star Wars universe.