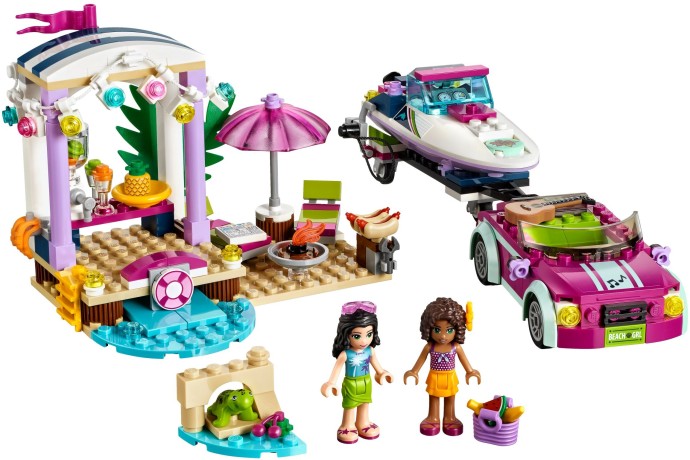 Discover the Thrill of LEGO® Friends Andrea's Speedboat Transporter
The release of the LEGO® Friends Andrea's Speedboat Transporter brings yet another distinct and creative angle to LEGO's popular Friends series, immersing young builders in an engaging, sea-inspired adventure. This distinctive set captures the thrill of ocean excursions alongside Andrea and Emma, two best friends ready for a day at Heartlake's beach.
A Ride Worth Taking
Let your imagination sail with this exceptional set, which rolled out in 2017 under the 'Beach' subtheme. Packaged neatly within its 35.4 x 19.1 x 5.9 cm box are 309 pieces of building fun aimed specifically at children aged between 6 and 12. However, older LEGO fanatics with a love for the coast would find this transportable speedboat themed set enchanting as well.
Built for the Adventure
LEGO goes beyond just creating toys; it's about crafting experiences. The essence of the beach adventure is captured meticulously in this set, featuring an elegant speedboat transported by an equally swanky beach car and trailer. Envision breezing through the coast, inside a remarkably designed speedboat equipped with sophisticated control steering and a moving propeller to simulate that authentic beach experience.
Bring Along A Friend…
…or even two! The set comes complete with mini doll figures of Andrea and Emma, along with their adorable turtle companion 'Bubbles'. These characters add a sprinkle of life into your creations. Not forgetting, the inclusion of other leisure elements like sun loungers, a beach area, and barbecue to amplify your fun beach vibe.
Dive into Party Mode
While the highlight is understandably the chic speedboat and its transporter vehicle, this set also indulges those who desire more chill adventures. Attending beach parties becomes easier as included is a party scene complete with a refreshing juice bar – perfect for those long summer days alongside friends and fellow mini figurines!
Pricing that Steers your Way
The affordable retail pricing makes this visually stunning set ideal for endless hours of creativity at a fraction of the cost – just £24.99 / $29.99 / 29.99€ to be precise.
A Building Experience worth Sailing For
The LEGO® Friends Andrea's Speedboat Transporter presents not just a toy but a creative building experiment harmonizing STEM learning with fun-filled playtime. Although the product retired on December 31st, 2018, its evergreen appeal continues to enthrall young minds that relish unique building experiences while cruising through interactive narratives.