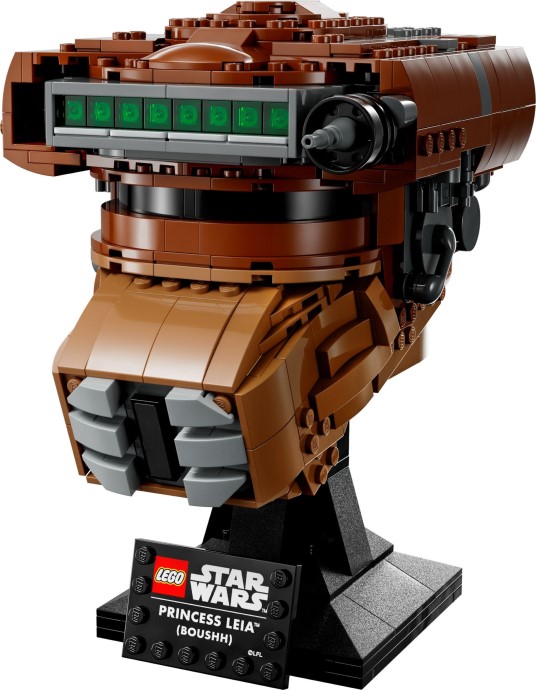 Immerse Yourself in the Star Wars Universe with the Princess Leia (Boushh) Helmet
Every fan of the Star Wars franchise has come to admire and cherish the characters that bring life to the story's adventure, and now, LEGO® adds to its Star Wars lineup with the 75351 Princess Leia (Boushh) Helmet Set. Aimed at adult collectors and enthusiasts, this centerpiece will certainly evoke nostalgia and act as a statement piece in any setting.
A Stunning Tribute to a Legendary Heroine
With 670 meticulously crafted pieces, builders can enjoy assembling this highly detailed replica of the iconic helmet that Princess Leia wore while posing as bounty hunter Boushh in Star Wars: Return of the Jedi. Designed by Jan Neergaard Olesen, this set captures every angle and curvature of Boushh's helmet, resulting in a buildable model that is sure to leave fellow fans in awe.
Marking a Milestone Anniversary
In celebration of the 40th anniversary of Star Wars: Return of the Jedi, LEGO® meticulously created the Princess Leia (Boushh) Helmet set as a part of its Helmet Collection series. This collectible is aimed at helping fans remember, or even discover, unforgettable moments from this cinematic masterpiece.
An Elegant Display Piece for Any Setting
The compact and sleek design of this buildable model ensures an eye-catching visual impact. Measuring over 6.5 inches high, 4.5 inches wide, and 5.5 inches deep, it proves perfect for display on shelves, desks or alongside other LEGO® Star Wars™ helmet models. The inclusion of a brick-built stand accompanied by a printed nameplate ensures it will look fantastic even when not on display.
Ease into the Building Process with Step-by-Step Instructions
Worry not about the assembly process as this set includes illustrated instructions in the box and on the LEGO® Builder app. Dive into a galaxy far, far away and enjoy a hands-on, creative hobby that will help you unwind while indulging in your passion for Star Wars.
A Priceworthy Addition to any Star Wars Collection
With a recommended retail price of £59.99 / $69.99 / 69.99€ and a price per piece of 9.0p / 10.4c / 10.4c, this LEGO® Star Wars™ 75351 Princess Leia (Boushh) Helmet is an affordable, yet impressive gift idea for birthdays or holidays suited for avid LEGO® collectors, adult Star Wars fans or those looking to expand their collection of helmet models.
Quality that You Can Trust
As with all LEGO® sets, components are made to meet rigorous industry standards to ensure consistency, compatibility, and secure connections. LEGO® bricks and pieces undergo extensive testing to ensure their compliance with strict global safety standards, so you can be confident in your creations and delve deep into your love for Star Wars without fear.
So why wait? Bring home the LEGO® Star Wars™ Princess Leia (Boushh) Helmet (75351) set today and let your creativity soar through the galaxy!