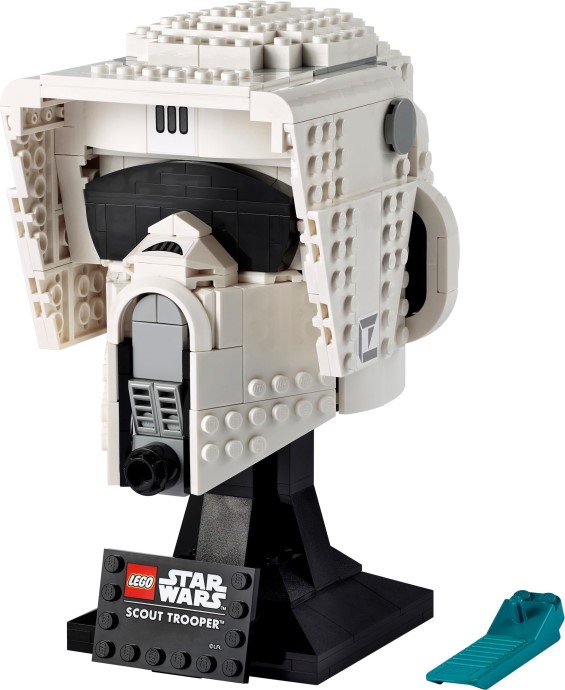 Discover the Intricate Craftsmanship of the Scout Trooper Helmet 75305
Dive into the world of LEGO Star Wars and embark on a journey to build the iconic Scout Trooper Helmet (75305). This highly detailed set promises to offer hours of entertainment and challenge for any Star Wars aficionado or avid LEGO builder. With its beautifully crafted design, this helmet offers an immersive experience that will transport you to the heart of the galaxy far, far away.
Bring Home an Iconic Piece from the Helmet Collection
This Scout Trooper Helmet is a part of the prestigious Star Wars Helmet Collection, which features a range of beautifully designed and intricately detailed helmets that are perfect for any devoted fan. With 471 pieces, this set is designed for adults aged 18 and above, making it an ideal collector's item or gift for that special someone in your life who just can't get enough of Star Wars.
Recreate Your Favorite Scenes in True LEGO Fashion
The set's designer, Hans Burkhard Schlömer, has meticulously recreated every contour and detail of the Scout Trooper Helmet using high-quality LEGO bricks. When complete, this stunning creation measures 19.1 x 35.4 x 9.1 cm (7.5 x 13.9 x 3.6 in), making it an eye-catching centerpiece for your home or office display.
A Premium-Quality Set for Die-Hard Fans
Released in 2021 as a part of the Star Wars subtheme Helmet Collection, this premium-quality buildable model comes with a display stand and nameplate to complete your Star Wars memorabilia collection. The set also includes step-by-step instructions so even beginner LEGO enthusiasts can confidently build this complex masterpiece.
Give the Gift of Galactic Fun and Challenge
With its affordable price and high piece-to-price ratio, this set is sure to impress friends and family alike, making it a perfect gift for any Star Wars fan or experienced LEGO builder. The Scout Trooper Helmet is only one of the many exciting sets available in the LEGO Star Wars series. Be sure not to miss out on the new-for-May-2021 Darth Vader Helmet (75304) as well.
A Testament to Quality, Creativity, and Innovation
LEGO Star Wars sets are designed for those who love the iconic franchise and appreciate the opportunity to engage in hands-on, creative projects during their leisure time. The LEGO components used to create the Scout Trooper Helmet have been rigorously tested to ensure compatibility and safety, meeting stringent industry standards. You can be confident in the quality and ingenuity of this remarkable set.
In conclusion, the Scout Trooper Helmet (75305) is a standout addition to your LEGO Star Wars collection. Its intricate design and captivating appeal promise countless hours of delight for both builders and collectors. Don't let this opportunity pass you by — bring home this epic piece of Star Wars history today!