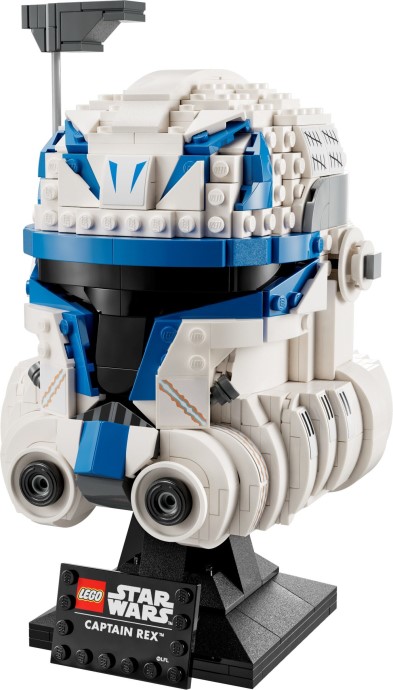 Introducing the Impressive Captain Rex Helmet from LEGO Star Wars
Step into the thrilling world of the 501st Legion Clone Commander with the highly detailed LEGO® Star Wars™ Captain Rex Helmet (75349). This captivating collectible is designed for adult fans who wish to feel closer to their favorite Star Wars saga. The Captain Rex Helmet is a beautiful representation of intricate craftsmanship, allowing builders to escape into a galaxy far, far away and recreate this iconic piece of Star Wars memorabilia.
Build Your Collection with the Captain Rex Helmet
This stunning model of Captain Rex Helmet is part of LEGO® Star Wars™ build-to-display helmet series designed to challenge and intrigue adult LEGO builders and Star Wars enthusiasts. Providing a refreshing change from everyday routine, this piece serves as an excellent addition to any Star Wars fan's collection. Furthermore, the 854-piece buildable set promises not only an engaging construction experience but also a striking display piece for your home or office.
Mindfulness Meets Authenticity
Crafted by designer César Soares, the LEGO® Star Wars™ Captain Rex Helmet comes alive with every authentic detail true to its appearance in Star Wars: The Clone Wars. Through meticulous attention given to each aspect of the helmet during construction, builders can practice mindfulness while immersing themselves in an enriching creative experience.
The brick-built helmet is accompanied by a stand and nameplate, adding a classy touch when placed on display. Easy-to-follow instructions are provided in the box and on the LEGO Builder app to guide you seamlessly through each step of this fascinating journey.
A Galactic Gift Full of Surprises
The captivating design and impressive craftsmanship make the Captain Rex Helmet (75349) an ideal holiday or birthday present for passionate LEGO builders, collectors of LEGO Star Wars helmets, or any adult Star Wars fan. Available for £59.99 / $69.99 / €69.99, the price per piece amounts to 7.0p / 8.2c / 8.2c – a promising investment for a spectacular LEGO creation.
Specifications Worth Marveling Over
As an outstanding example of brick-built Star Wars memorabilia designed to make a significant visual impact, this collectible Captain Rex helmet replica stands at over 8 in. (21 cm) high, 5 in. (12 cm) wide, and 5 in. (13 cm) deep. In addition, find illustrated step-by-step instructions within the box and on the LEGO® Builder app guiding you through each phase of construction.
Quality and Safety Guaranteed
The premium-quality LEGO® Star Wars™ construction sets such as the Captain Rex Helmet are made for you, the discerning hobbyist who enjoys engaging hands-on DIY projects. Moreover, LEGO bricks and pieces comply with rigorous industry standards, ensuring they connect securely for stable builds. Security is further guaranteed as LEGO components undergo extensive testing to ensure they meet high global safety standards.
In conclusion, this exceptional Captain Rex Helmet from LEGO Star Wars offers an unparalleled building experience that captures the essence of a cherished Star Wars character while providing a remarkable display piece to brighten up your collections. Embrace your inner builder and dive into the fascinating world of Captain Rex today.