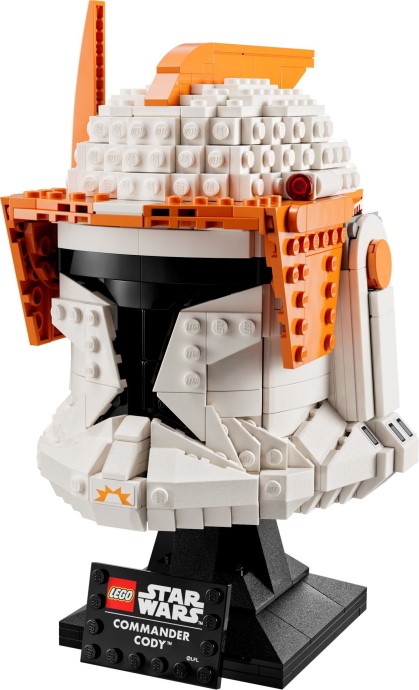 Experience the Legendary LEGO® Star Wars™ Clone Commander Cody Helmet
Get ready to step into the imaginative world of LEGO® and Star Wars™ as you embark on a journey to construct the highly-detailed Clone Commander Cody Helmet (75350). This exquisite piece of art captures every contour and subtlety of CC-2224's iconic helmet from Star Wars: The Clone Wars, inviting you to unleash your creativity, and indulge in hours of satisfying building experience in the comfort of your home.
A Creative Escape for Star Wars Fans and Advanced LEGO Enthusiasts
Specially designed for adult fans of Star Wars and seasoned LEGO devotees, this 776-piece set makes for an ideal birthday or holiday present. Whether you're looking to expand your existing LEGO Star Wars Helmet collection or simply want a meditative hobby for weekends, the Clone Commander Cody Helmet is nothing short of a magnificent choice.
More Than Just a Building Set – A Masterpiece Worth Displaying
The true beauty of this building set lies in more than just its intricate construction process but also in the finished product. Standing over 8 inches (21 cm) high, this pristine model will demand attention from all corners of your room. Supported by its brick-built stand and accompanied by a printed nameplate, the Clone Commander Cody Helmet is a showstopper worthy of display in any fan's cherished collection.
Meticulous Design Meets Unwavering Quality
The journey behind every LEGO Star Wars set is steeped in rich detail and passion for creativity. Carefully crafted to meet stringent industry standards, each brick and piece securely connects with one another, ensuring that your completed Clone Commander Cody Helmet remains intact even after multiple assembly sessions. All components undergo rigorous testing that includes dropping, crushing, twisting, heating, and thorough analysis to comply with global safety norms, making LEGO sets an investment in unparalleled quality.
Immerse Yourself in the World of LEGO Star Wars
As a connoisseur of LEGO and Star Wars, you deserve the most captivating hands-on experience in building intricate models from this iconic saga. The range extends far beyond the breathtaking Clone Commander Cody Helmet – you'll fall in love with various other themed sets to elevate your collection. Don't just take our word for it; give yourself the gift of creative relaxation as you delve into constructing memorable pieces from a galaxy far, far away.