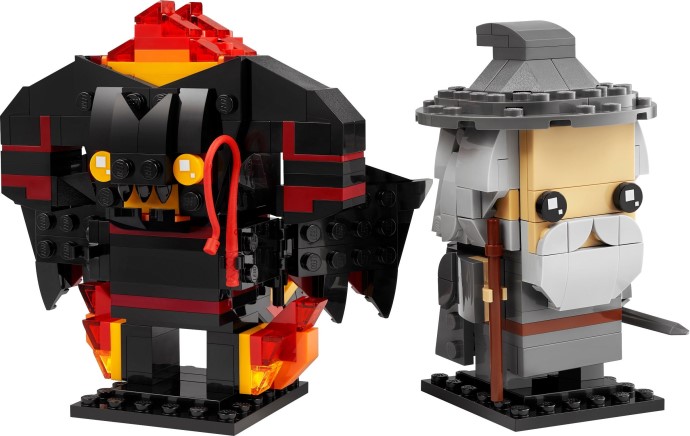 Journey into Tolkien's Middle Earth with LEGO® 'Gandalf the Grey & Balrog' BrickHeadz Set (40631)
Crafted by gifted designer Dan Squirrell, this LEGO® BrickHeadz™ masterpiece transports you back to J.R.R. Tolkien's fantasy realm. Released on January 1, 2023, under The Lord of the Rings™ sub-theme, the set quickly became a must-have for avid collectors and fans of all things Middle Earth.
An Epic Confrontation Cast in Bricks
As arguably one of the most iconic scenes from The Fellowship of the Ring, Gandalf's ultimate showdown with the Balrog is meticulously reimagined within this LEGO® BrickHeadz™ set. Relive every exhilarating moment as you recreate this timeless battle between good and evil.
Craftsmanship shines through in each of the 348 intricately designed pieces. The Gandalf figure is armed with his symbolic sword and staff, symbolising his wisdom and power. The formidable Balrog contrasts starkly with his fiery whip, representing his insatiable malevolence and destruction. The elemental dichotomy has been captured brilliantly making it an enticing replication for devout fans.
Adding Magical Charm to Your Collection
Priced at £17.99 / $19.99 / 19.99€ with a pleasing price-per-piece ratio of 5.2p / 5.7c / 5.7c , this set is a valuable addition to any collection while offering hours of construction enjoyment for builders aged ten and up.
Each character stands proudly over 3.5 in or 9 cm, placed atop their custom baseplate for impressive display purposes. Display them as individual characters or locked in an epic battle that fits into a compact space of only 19.1 x 14.1 x 7.1 cm (or 7.5 x 5.6 x 2.8 inches).
A Gift That Spells Enchantment
Looking for an exceptional gift that combines the charm of a classic tale with the thrill of building? The Gandalf the Grey™ & Balrog™ set makes a magical birthday treat or holiday gift for The Lord of the Rings™ enthusiasts and LEGO® BrickHeadz™ collectors alike.
Whether it's celebrating Tolkien's intricate world-building or feeling pride over personal assembly skills, this set promises satisfaction on multiple fronts. Unleash your creativity and immerse yourself in the magical world of Middle Earth – one brick at a time.