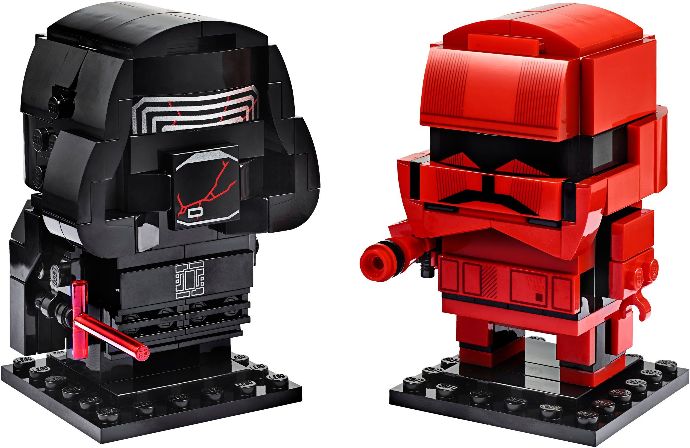 Discover the Intriguing Kylo Ren & Sith Trooper LEGO Set
Indulge your passion for the Star Wars saga with the visually stunning LEGO BrickHeadz 75232 set, featuring none other than the iconic Supreme Leader Kylo Ren and a menacing Sith Trooper. Released in 2019 and based on characters from the epic Star Wars: The Rise of Skywalker movie, this set captures the essence of villainous power inherent in the phenomenal First Order. Let's take a closer look at what makes this set so alluring to devoted fans and LEGO enthusiasts alike.
An Authentic Glimpse into a Galaxy Far, Far Away
The Kylo Ren & Sith Trooper LEGO BrickHeadz set is meticulously crafted to stay true to the authentic details portrayed in the blockbuster movie. From Kylo Ren's unmistakable Lightsaber, cape, and helmet to the Sith Trooper's advanced weaponry and unique red armor, these figures bring the characters to life with an impressive level of detail.
A Perfect Display Piece for Star Wars Aficionados
With an age recommendation of 10+, this 240-piece set offers plenty of playful enjoyment for builders both young and seasoned. But it's not just a fun challenge to assemble; once completed, these terrific LEGO Star Wars building toy construction characters can be proudly displayed atop their included collector's baseplates. Measuring over 2 inches (7 cm) tall, they are sure to make an eye-catching addition to your collection or a wonderful gift for any die-hard Star Wars fan.
A Pocket-friendly Price for Hours of Fun
You don't have to break the bank when adding this fantastic set to your repertoire of LEGO creations. With an RRP of £17.99 / $19.99 / 19.99€, the Kylo Ren & Sith Trooper BrickHeadz set offers an excellent value for its price-per-piece ratio, amounting to roughly 7.5p / 8.3c / 8.3c per piece. Not to mention, the fun of constructing these iconic figures from a galaxy far, far away will be truly priceless!
Join the Galactic Battles with LEGO BrickHeadz
If you're a Star Wars enthusiast who loves LEGO building challenges, don't miss out on adding the Kylo Ren & Sith Trooper BrickHeadz set to your collection. Dive into the world of interstellar conflicts and assemble these legendary villains to display on their baseplates. After all, every great story needs its antagonists, and they don't get much more iconic than Supreme Leader Kylo Ren and a Sith Trooper from the almighty First Order!