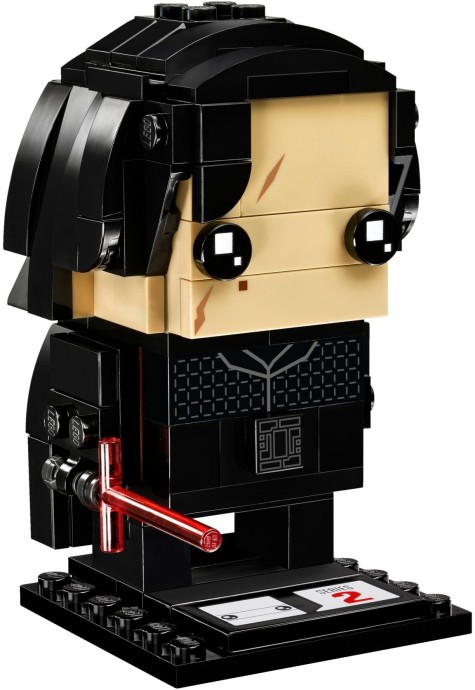 Discover the BrickHeadz Kylo Ren Set
Calling all Star Wars enthusiasts and LEGO fanatics! The LEGO® BrickHeadz™ 41603 Kylo Ren™ set is an exciting addition to your collection, featuring the notorious character from the epic Star Wars: The Last Jedi film. Released in 2018, this action-packed set lets you recreate Kylo Ren's iconic features using its 130 authentic LEGO bricks.
A Fun Build for Star Wars Fans
Dive into the world of Star Wars and assemble this construction character with ease, as it comes with all the detailed elements that make up Kylo Ren's recognizable appearance. You'll be able to craft his elaborately decorated torso, belt, and even a detachable cross-guard Lightsaber for added authenticity. Once assembled, the Kylo Ren figure stands 2" (7cm) tall without the baseplate, making it perfect for display anywhere in your home or office!
Expand Your BrickHeadz Collection
Why stop at just one? Grow your LEGO® BrickHeadz™ collection with other classic Star Wars characters like Rey (41602) and many more favorites from the saga. Mix and match your BrickHeadz characters to create unique hybrids or design entirely original figures that leave your imagination running wild. With every separate character available, you'll have endless possibilities to explore!
Collector's Baseplate Included
No collector's display is complete without a sturdy baseplate! Each LEGO® BrickHeadz™ construction character set comes with its own buildable collector's baseplate that measures over 1" (4cm) square. The impressive Kylo Ren figure can easily stand on top of this baseplate adorned with the iconic BrickHeadz logo, making it an essential addition to your expertly curated collection.
A Parent's Guide to LEGO Safety
Parents can rest assured knowing that this LEGO BrickHeadz set was designed with a recommended age range of 10 and up, ensuring hours of safe fun for older children. The dimensions of the finished build are 9.1 x 12.2 x 7.8 cm (3.6 x 4.8 x 3.1 in), making it an ideal size for small hands and easy storage when not in use.
Invest in Quality Entertainment
The Kylo Ren BrickHeadz set has an affordable price of £9.99 / $9.99 / 9.99€, coming out to a mere 7.7p / 7.7c / 7.7c per piece! This budget-friendly collectible is perfect for families who want to invest in a thrilling building experience without breaking the bank, or for fans who simply cannot resist adding another piece to their beloved Star Wars collection.
In conclusion, the LEGO® BrickHeadz™ Kylo Ren™ set offers not just an entertaining build, but a fantastic way to immerse yourself in the larger-than-life world of Star Wars right from your own living room. With authentic details and endless possibilities for customization and expansion, you'll be master of your very own galaxy in no time!
Product Specs
Product Specs
Product Name:
Kylo Ren
Pieces
130
RRP
£9.99 / $9.99 / 9.99€
Release Year
2018
Theme
BrickHeadz
Instructions
Lego Kylo Ren Instructions