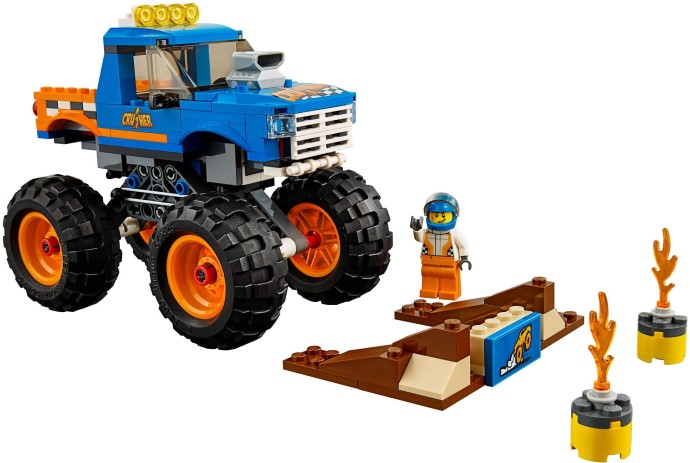 Introducing LEGO City: Monster Truck
Welcome to the fascinating world of LEGO City and one of its most thrilling sets – the 60180 Monster Truck. Designed in 2018 by the talented Leon Pijnenburg, this set is sure to excite children and adult LEGO enthusiasts alike.
A Stunning Surge of Adrenaline in LEGO Form
The LEGO City Monster Truck perfectly embodies the exhilarating, heart-pumping action packed world of racing and destruction derbies. Unleash your inner daredevil with this set which comprises 192 pieces – a relatively modest count ensuring loads of fun without excessive complexity. The recommended age range falls between 6 and 12 years, making it a fantastic gift for kids who are just discovering the excitement of building with LEGO.
Vibrantly Coloured Monster Truck With Exciting Features
Every character in this set is a model made with passion for detail. The Monster truck set includes a stunt driver minifigure ready to pull off jaw-dropping stunts. Packed with vivid colours, strikingly large wheels, an impressive air scoop hood and functional suspension mechanism, this truck model is far from ordinary.
One could almost imagine the roaring engine and screeching wheels as the monster truck leaps off the included buildable ramp. As if that's not engaging enough, also part of the set are two fiery barrels for your truck to jump over – because no stunt show is complete without stunts that toy with danger!
Affordable Fun That Lasts
Released at an affordable suggested retail price (RRP) of £14.99 / $19.99 / 19.99€, this LEGO City Monster Truck Set offers hours of engaging playtime and learning at excellent value for money. For each piece, you're basically paying around 7.8p in UK, or 10.4c in US – that's thrilling fun at a small cost!
The entire set weighs only about 0.38 Kg (or 0.84 lb), making it easy to handle for little hands and convenient to carry around on playdates or vacations.
In Summary
The LEGO City 60180 Monster Truck set is not just a collection of bricks; it's an invitation to a thrilling world of adventure and creativity, where you're limited only by your imagination! Pull off daring stunts, come face to face with gravity-defying jumps over flaming barrels – all within the safety and comfort of your own home. This set isn't just play; it's edutainment at its finest!