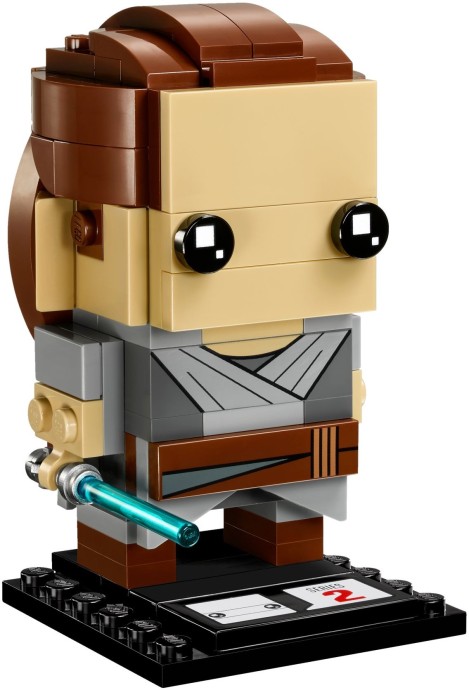 Discover the LEGO BrickHeadz Rey Set
Enter the captivating world of Star Wars with LEGO's BrickHeadz 41602 Rey construction character. This intricately designed building set is inspired by Rey's appearance in the blockbuster movie, Star Wars: The Last Jedi. As a part of the fascinating BrickHeadz collection, this set promises hours of immersive Star Wars fun and serves as an endearing decorative keepsake for fans. With an array of authentic details and exquisite features, this Rey building set stands apart as an outstanding addition to every LEGO and Star Wars collection!
An Authentic Representation of Rey
LEGO has meticulously crafted this delightful Rey construction character to resemble her iconic look from Star Wars: The Last Jedi. Boasting a colorful LEGO brick design that replicates her unique costume details like the decorated torso and belt, this rendition of Rey is not just a toy but also a collectible. In her hand, she wields a detachable Lightsaber representing her prowess and unwavering attitude.
Collector's Baseplate
A distinctive aspect of LEGO BrickHeadz sets is the buildable collector's baseplate that accompanies each character. This baseplate displays the BrickHeadz icon, making it a perfect display stand for your favorite Star Wars figures in your home, office, or any other location you wish. With this baseplate, showcase your prized Rey construction character proudly for all to see.
Expand Your Collection with Other Star Wars Characters
Engulf yourself in the enchanting realm of Star Wars by enhancing your LEGO BrickHeadz collection with other notable characters from the franchise. Follow Rey's journey by adding 41603 Kylo Ren and other admired characters from the movie series to create epic diorama scenes and relive memorable moments from your favorite Star Wars films.
Unleash Your Creativity
Let your imagination run wild by mixing and matching different LEGO BrickHeadz construction character parts to create one-of-a-kind hybrids or your exclusive designs. The possibilities are endless with this versatile and unparalleled building platform!
A Toy for all Ages
Released in 2018, the LEGO BrickHeadz Rey set is perfect for enthusiasts aged ten and above. It consists of 119 pieces and measures 9.1 x 12.2 x 7.8 cm (3.6 x 4.8 x 3.1 inches) when built. The recommended retail price of £9.99 / $9.99 / 9.99€ offers great value for money with a price per piece of just 8.4p / 8.4c / 8.4c.
In conclusion, the enchanting LEGO BrickHeadz Rey set promises thrilling building experiences while capturing the essence of the vivacious Star Wars character faithfully. This unique collectible is perfect for fans of all ages to savor their love for Star Wars and indulge in creative play with boundless possibilities!
Product Specs
Product Specs
Product Name:
Rey
Pieces
119
RRP
£9.99 / $9.99 / 9.99€
Release Year
2018
Theme
BrickHeadz
Instructions
Lego Rey Instructions