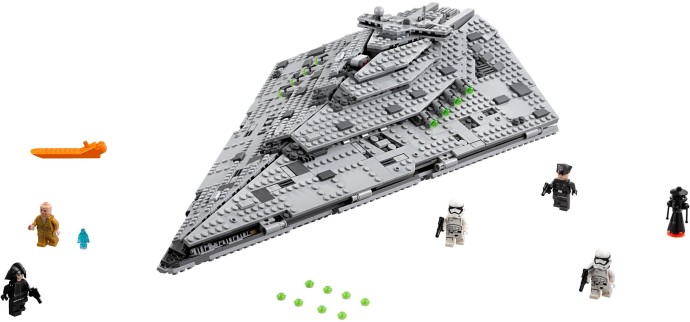 First Order Star Destroyer: A Stellar LEGO Set for Star Wars Fans
Star Wars enthusiasts and LEGO aficionados will undoubtedly rejoice at the release of the First Order Star Destroyer, an impressive 2017 addition to the Star Wars: The Last Jedi subtheme. Designed by Hans Burkhard Schlömer, this intricate construction boasts a myriad of features to delight fans of both the movie franchise and the beloved building blocks.
A Spacecraft Worthy of Galactic Adventure
Bearing more than 1,400 pieces, this LEGO set offers hours of fun and challenges while assembling an enormous model filled with tantalizing elements. The exterior of the spacecraft alone is enough to make any fan giddy with anticipation; armor-like panels cover the outside while transparent elements give you a sneak peek into its engine detailing at the back. Fear not, as eight side-facing stud shooters are included in this formidable design to ward off any enemies from all angles.
Expansive Interiors Await Within
Once the top panels open up, you'll be greeted by an exquisitely detailed interior that takes imagination to greater heights. You can embark on your own space mission by hoisting the elevator and seating Supreme Leader Snoke in his chamber, complete with a mini hologram figure. For those in charge behind-the-scenes, take command at the control room with instrument panel detailing or strategize in the conference area accompanied by a buildable medical droid and BB-9E droid.
Included Minifigures and Accessories
The First Order Star Destroyer LEGO set wouldn't be complete without its cast of characters to bring your intergalactic journey to life. It comes with seven minifigures: Supreme Leader Snoke, a First Order Officer, First Order Stormtrooper Sergeant, First Order Stormtrooper, and a First Order Shuttle Pilot. Lego enthusiasts can arm their characters with two blasters and two blaster pistols included in the set.
Pricing and Specifications
The recommended retail price (RRP) for this masterpiece of a construction set is £129.99 / $159.99 / 149.99€, and it flaunts an age range of 9 – 14 years. The dimensions measure at 58.2 x 37.8 x 10.3 cm (22.9 x 14.9 x 4.1 in), with a weight of 2.3Kg (5.07 lb), making it a remarkable sight when placed on display after completion.
A Must-Have Addition for LEGO Enthusiasts
Whether you're a long-time collector or new to the LEGO world, you will not want to miss the chance to explore the universe with the First Order Star Destroyer from Star Wars: The Last Jedi subtheme. With a stunning design that stays true to the movies and an intricate interior layout sure to spark your imagination, this set is a must-have addition to any LEGO and Star Wars fan's collection.