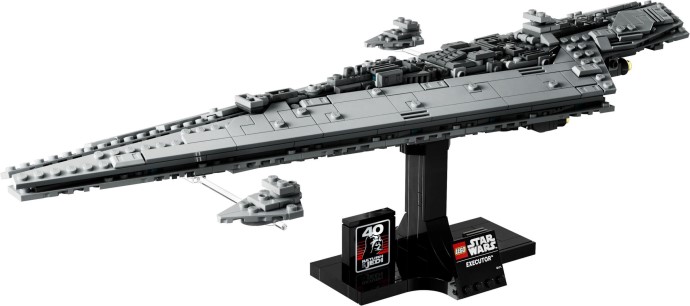 Discover the Executor Super Star Destroyer – A Timeless Lego Classic
Experience the ultimate in LEGO® building excitement with the innovative Executor Super Star Destroyer (75356) set. Featuring a stunning marriage of complex design and high-quality materials, this masterpiece from the much-loved Star Wars™ Episode VI subtheme transports you to the world of your favorite space saga.
An unforgettable trip down memory lane
Ride the nostalgia train all the way to 2023 with this limited-edition release of a fan favorite. This exceptional LEGO® Star Wars™ model captures the awe and grace of Darth Vader's Executor Super Star Destroyer in immaculate brick form. Relive moments from Star Wars: Return of the Jedi while paying homage to its 40th anniversary in style, as you piece together a celebration of galactic brilliance.
A symphony of skilled craftsmanship
The brainchild of master designer Nathan Clark, this 630-piece set demonstrates LEGO's unwavering commitment to creativity, innovation, and quality. Coming with a recommended age range of 18+, builders can explore the intricacies of this stunning model while honing their skills and expertise. With finely crafted attention to detail and an appealing RRP (£59.99 / $69.99 / 69.99€), fans can indulge in an activity that rewards both eye and mind.
Performance beyond mere aesthetics
Enhance your building experience by accessing the accompanying LEGO Builder app for comprehensive insights, tools, and support throughout every stage of construction. The Executor Super Star Destroyer comes ready to display on its bespoke stand, complete with nameplate and anniversary plaque for a polished finish that deserves pride of place on any desk or shelf. Measuring an impressive 17 in. (43 cm) long, this iconic starship is a testament to LEGO's prowess in the Star Wars™ domain.
A gift imbued with the FORCE
Whether you're treating yourself or surprising a fellow LEGO® connoisseur, this elegant build unveils new depths of creativity and artistry within every brick. From the two accompanying Star Destroyers that underscore the Executor's majestic scale to the exceptional display-focus design and timeless aesthetic appeal, this is one gift that knows no bounds.
Safety and quality – always in prime focus
LEGO® remains an unrivaled leader in providing premium-quality products that not only inspire creativity but assure safety at every turn. With stringent design and manufacturing processes, builders can have complete peace of mind while assembling their Executor Super Star Destroyer. LEGO bricks conform to rigorous industry standards, ensuring seamless connectivity and uncompromising durability for years of enjoyment.
Embrace the power of the Dark Side and embark on a journey to remember with the Executor Super Star Destroyer (75356). This classic from the LEGO® Star Wars™ collection is a celebration of inventive genius, captivating beauty, and intergalactic adventure. Bring home your very own piece of history and immortalize this emblematic vessel in lovingly crafted LEGO form.