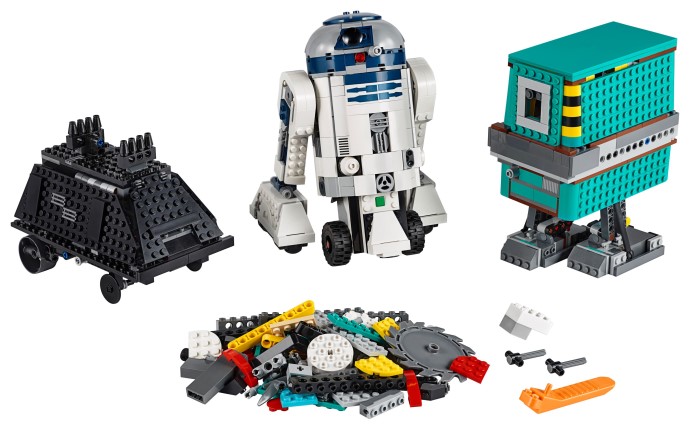 Discover the Exciting World of LEGO Star Wars with Droid Commander
Aspiring young Jedi will love exploring the rich world of Star Wars through the engaging, interactive, and fun LEGO Star Wars Droid Commander set. This comprehensive kit brings together iconic characters, droids, and mission scenarios, enabling kids to learn coding skills while indulging in their favorite space opera universe. With a total of 1,177 pieces, kiddos aged 8+ will embark on an exciting journey of learning and creativity with this exceptional intergalactic STEM toy.
Embark on Over 40 Thrilling Missions
This unique LEGO Star Wars kit allows your child to take control of three app-controlled droids—R2-D2, Gonk Droid, and Mouse Droid—each with distinctive abilities and personalities. By using the intuitive drag-and-drop coding environment on the free accompanying LEGO BOOST Star Wars app, children can assemble the droids and progress through more than 40 exciting missions. These challenges encourage imaginative play as well as developing critical thinking and problem-solving abilities.
Build & Code Your Way Through Legendary Star Wars Experiences
The Droid Commander set comes with an array of buildable props including a color & distance sensor, interactive motor, Move Hub and many more items that can be attached to the droids to further enhance their functionality. From rocket boosters to catapults and cake shooters to decoding targets, there's no end to what these droids can do! As they interact with familiar Star Wars locations, characters, sounds, and music from episodes I-VI, their engineering skills will be tested while they immerse themselves in a truly unforgettable saga.
A Sleek Design for Evolving Skill Levels
The LEGO brick R2-D2 figure stands at 7 inches (20 cm) high, poised for adventure. The quirky Gonk Droid measures 7 inches (18 cm) high and the adorable Mouse Droid reaches 5 inches (14 cm) high, ensuring that all three droids leave a lasting impression on both kids and adults alike. The accompanying free LEGO BOOST Star Wars Droid Commander app offers immense replayability and is compatible with selected iOS, Android, and Fire smart devices. Parents can also find downloadable digital building instructions to make assembly a breeze.
A Delightful Gift for Any Occasion
Whether it's a birthday, Christmas, or simply a treat for your young Star Wars enthusiast, the LEGO Star Wars Droid Commander set promises hours of entertainment, learning, and pure joy. Not only will your kids develop essential STEM skills like coding and robotics, but they'll also get to immerse themselves in the rich and iconic galaxy that has fascinated generations of fans. With LEGO Star Wars Droid Commander, your child's imagination will soar to new heights—just like their favorite X-wing fighter!