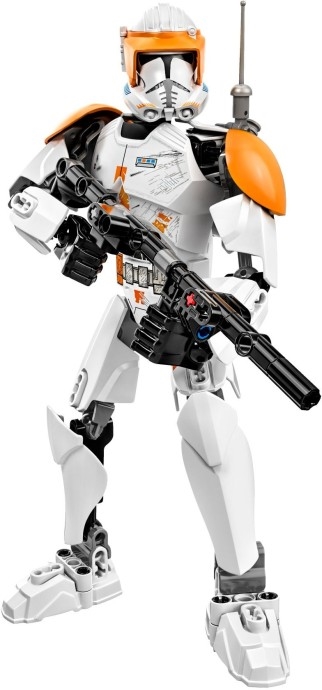 Experience the Intensity of Star Wars with Clone Commander Cody™!
Ignite your passion for Star Wars with the fantastic LEGO® set 75108: Clone Commander Cody™! Based on the iconic character from the famed space opera, this buildable figure is a must-have for fans and collectors alike. With exciting features and impressive details, Clone Commander Cody has everything you need to recreate thrilling battles from the Star Wars saga. So gear up and get ready to embark on an unforgettable intergalactic adventure!
Highly Detailed Design for an Authentic Star Wars Experience
Clone Commander Cody is a true testament to LEGO's commitment to meticulous craftsmanship and attention to detail. The figure comes with fully posable limbs, custom orange clone armor, a buildable blaster rifle, and backpack – everything required to accurately represent the beloved commander. With these elements combined, it's easy to recreate all of your favorite Commander Cody battle poses!
Protect the Jedi and Fight Against the Empire
To ensure the survival of the Jedi Order, it's up to Clone Commander Cody to lead his troops into combat against the oppressive Galactic Empire. With this incredible buildable figure, you can recreate those intense battles scenes in stunning detail. From defending against Imperial forces to confronting your foes on distant planets, this LEGO set will have you feeling like you're right in the heart of the action!
Perfect for Kids Ages 7 – 12
Clone Commander Cody has an age recommendation of 7-12 years, making it a perfect gift for any young Star Wars lovers in your life. With its sturdy design and durable materials, children can enjoy hours of imaginative play without worry. This set offers a unique opportunity for kids to engage with their favorite franchise while also developing important problem-solving and motor skills.
An Excellent Addition to Your Star Wars Collection
Released in 2015 as part of the iconic Star Wars Buildable Figures subtheme, Clone Commander Cody is both an impressive display piece and a treasured collector's item. Designed by John Ho, the set boasts 82 pieces, ensuring a challenging yet satisfying building experience. With a retail price of £14.99 / $19.99 / 19.99€, it's a great value for any serious LEGO enthusiast!
In Conclusion: Ignite Your Star Wars Passion with Clone Commander Cody™!
Whether you're a casual fan or a die-hard collector, LEGO® set 75108: Clone Commander Cody™ is an essential addition to your Star Wars collection. With its rich details, exciting features, and immersive play possibilities, this buildable figure promises endless entertainment for fans of all ages. So why wait? Embrace the Star Wars saga and let your imagination soar with Clone Commander Cody™ today!