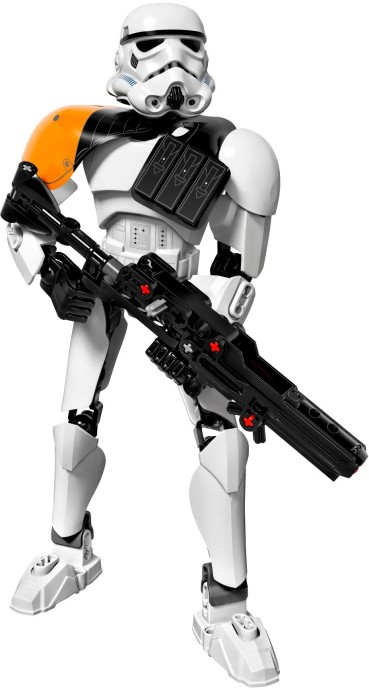 Discover the LEGO Star Wars Stormtrooper Commander Set
Awaken your inner Star Wars fan and become a commander of LEGO's Galactic Empire with the Stormtrooper Commander buildable figure set. This impressive and meticulously designed model, released in 2017, belongs to the iconic Star Wars subtheme of Buildable Figures. Ideal for kids aged 7 to 14, let your imagination run wild while you assemble this true-to-detail Stormtrooper and recreate exhilarating scenes from the popular Star Wars saga.
A Dazzling Display of Features
The LEGO Stormtrooper Commander is one formidable brick-built figure that stands over 9″ (24cm) in height when fully assembled. It features a back-mounted heavy blaster that's equipped with a powerful spring-loaded shooter for defensive combat against Rebel forces. To further enhance its commanding aesthetic, the Stormtrooper Commander is also outfitted with a pauldron and detachable ammo pouches to store extra ammunition.
No battle pose is impossible for this highly posable figure, thanks to its sturdy and durable design. Make adjustments to the limbs to capture classic Star Wars battles or create new epic showdowns – the possibilities are endless.
Dual Characters in One Set
This cleverly designed 2-in-1 model provides double the Imperial entertainment, as it can easily be modified into a regular Stormtrooper armed with a blaster. With just 100 pieces to build with, collectors can revel in storming through the galaxy in various intimidating forms of their choosing.
Value for Money
The LEGO Star Wars Stormtrooper Commander set was priced at £19.99 / $24.99 / €24.99 upon its release. When breaking down cost of individual pieces, it comes up to 20.0p / 25.0c / 25.0c per piece. Measuring 14.1 x 26.2 x 6.1 cm (5.6 x 10.3 x 2.4 in) and weighing 0.29Kg (0.65 lb), the set packs a great deal of content and poseability at a reasonable price.
Build Your Star Wars Universe
Whether you're new to the world of LEGO Star Wars or an avid collector looking to expand your intergalactic realm, the Stormtrooper Commander buildable figure is an ideal addition to any collection. Released between June 2017 and July 2018, this LEGO set offers endless excitement in assembling different versions of Imperial forces and creating dynamic battle scenes to revive the spirit of Star Wars with every build.