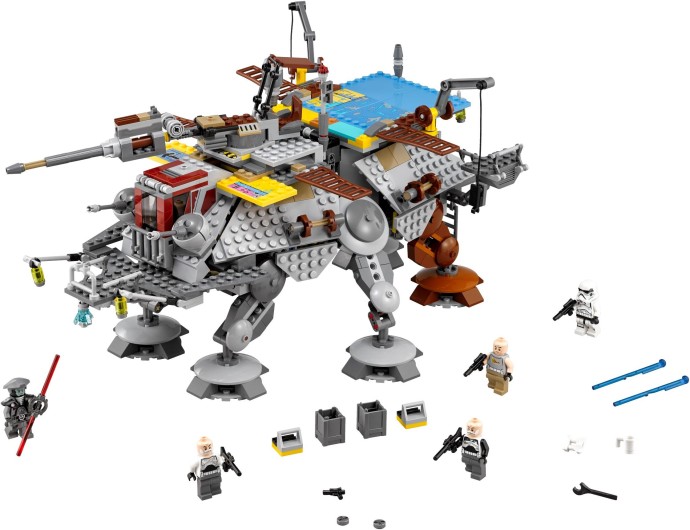 Captain Rex's AT-TE: A Marvelous Star Wars Set for Lego Enthusiasts
Lego has always captivated the hearts of fans and collectors with its remarkable sets, and Captain Rex's AT-TE is no exception. Released in 2016 as part of the Star Wars Rebels subtheme, this set contains 972 pieces and promises hours of engaging entertainment for both kids and the young-at-heart.
A Spectacular Reproduction of the Modified AT-TE
As seen in the Star Wars Rebels animated TV series, the All Terrain Tactical Enforcer (AT-TE) featured in this set is a heavily modified version piloted by Captain Rex and his clone compatriots, Commander Gregor and Commander Wolffe. The AT-TE assault walker is both a formidable battle vehicle and a mobile home for the heroes.
Intricate Features and Playability
The captivating details of Captain Rex's AT-TE truly bring it to life. Equipped with cranes, ladders, armor panels, a rear door, and even an opening rear top section, this assault walker provides endless play opportunities. The top-mounted gun with spring-loaded shooter enhances its interactive nature, allowing you to recreate unforgettable battle scenes involving Imperial Inquisitor Fifth Brother and his Stormtrooper partner.
A Rich Collection of Minifigures
One of the many highlights of this Lego set is the inclusion of five uniquely designed minifigures: Captain Rex, Commander Gregor, Commander Wolffe, Imperial Inquisitor Fifth Brother, and a Stormtrooper. Fans would be thrilled to add these beloved characters from the Rebels series to their existing collection.
Compatibility and Collectibility
This extraordinary set belongs to a line of compatible Lego Star Wars building toys that cater to budding and professional builders alike. With a recommended age range of 9 to 14 years old and measuring over 7 inches in height, 12 inches in length, and 9 inches in width, Captain Rex's AT-TE makes an impressive addition to any Lego collection.
Verdict: A Must-Have for Star Wars Fans
Offering a glance at a fascinating part of the Galaxy Far, Far Away, Captain Rex's AT-TE brings together the best of Lego building experiences and an unparalleled appreciation for the Star Wars universe. With its jaw-dropping features and elaborate design, fans are bound to have a blast assembling this incredible set while immersing themselves in unique storylines from Rebels along the way.