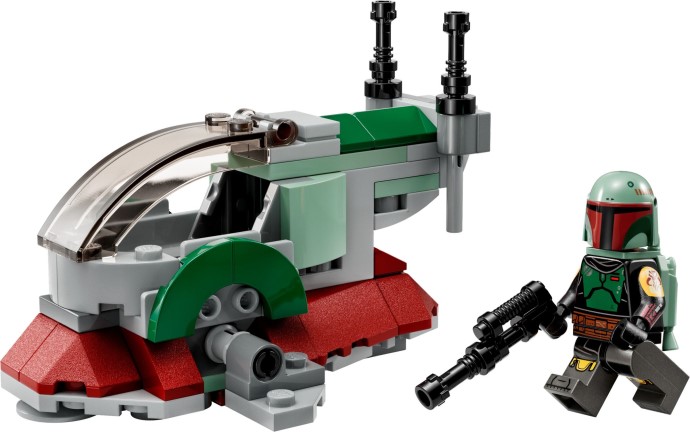 Introducing the Boba Fett's Starship Microfighter
For fans of LEGO® and Star Wars™ alike, the announcement of a new building set is always thrilling. If this sounds like you, get ready to be blown away by the Boba Fett's Starship Microfighter (75344) — a fantastic introduction to LEGO® Star Wars™ building toys for children ages six and up. Much like its full-scale counterpart, this microscale LEGO brick version of the renowned starship boasts incredible detail and fun features that any Star Wars fan will surely appreciate.
A Micro Spacecraft with Massive Appeal
The Boba Fett's Starship Microfighter is designed to mirror the iconic starship seen in the classic Star Wars saga, as well as in popular contemporary series like The Mandalorian and The Book of Boba Fett. Featuring 85 pieces, this magnificent mini model measures 14.1 x 12.2 x 4.6 cm (5.6 x 4.8 x 1.8 in) when fully assembled — perfect for display or playtime on-the-go.
Action-Packed Features
Although small in size, the Boba Fett's Starship Microfighter has no shortage of excitement built in. Equipped with two flick shooters, young fans can engage in thrilling battles against enemy starfighters, while adjustable wings facilitate seamless transition between flight and landing modes. Additionally, the opening cockpit is specially designed to accommodate the set's included Boba Fett LEGO® minifigure, who comes with a blaster and jetpack accessory element to inspire even more imaginative play.
An Interactive Building Experience
To enhance your child's enjoyment, consider utilizing the LEGO Builder app during construction of their new favorite set! This innovative digital platform offers intuitive zoom and rotate viewing tools that can bolster young builders' confidence while streamlining the entire process.
A Gift for All Ages
Since 1999, the LEGO Group has captivated Star Wars enthusiasts with its faithful recreations of iconic scenes, vehicles, and characters from the beloved franchise. The Boba Fett's Starship Microfighter is no exception, making it an ideal gift for fans of all ages, regardless of the occasion. Delight young padawans and seasoned Jedi masters alike with this incredible addition to any LEGO® Star Wars™ collection.
Quality and Safety First
As with all LEGO® products, you can trust that the components included in this impressive set meet strict industry quality standards for connection consistency and security. Additionally, each and every building brick undergoes rigorous testing to ensure adherence to global safety standards — providing parents with peace of mind knowing their children's favorite toys are of the highest caliber.
In conclusion, don't miss your chance to surprise the Star Wars fanatic in your life with the fabulous Boba Fett's Starship Microfighter (75344) set! Relive all the epic space adventures at a truly micro scale today.