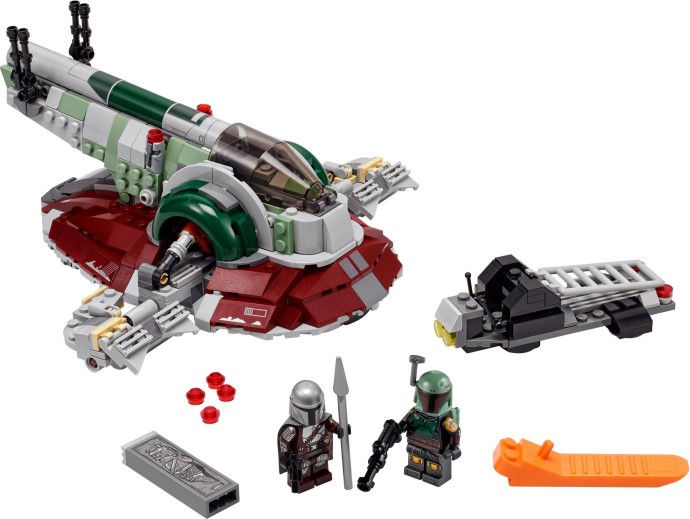 Unleash Your Imagination with Boba Fett's Starship
Embark on an enthralling journey into the Star Wars universe with the LEGO 75312: Boba Fett's Starship set. This stunningly intricate model is inspired by the iconic spacecraft seen in The Mandalorian series and offers an immersive build experience for Star Wars and LEGO fans alike.
A Must-Have Set for Star Wars Enthusiasts
Complete with engaging details and delightful play features, this high-quality set is designed to transport you to the heart of the action from The Mandalorian Season 2. Recreate exhilarating bounty-hunting missions or devise your own thrilling escapades with this exquisite LEGO brick rendition of the legendary starship.
Minifigures Add Adventure to Your Collection
Satisfy your appetite for adventure with Boba Fett and The Mandalorian minifigures, each armed with their own weapon, alongside a Carbonite brick for added authenticity. Dive into a world where heroes, villains, and vigilantes traverse the galaxy on mysterious escapades.
Innovative Design and Features
Boba Fett's Starship showcases a thoughtful design accentuated by details such as an opening cockpit for LEGO minifigures, rotating wings, dual blaster cannons, and stud shooters. A handy inbuilt handle ensures effortless flying during exciting play sessions while a transporter vehicle aids in moving the starship and doubles as an awe-inspiring display stand.
Demonstrate Your Passion for Star Wars
This LEGO set offers endless potential for both solo or group creative play, perfect for introducing newcomers to bewitching brick-building odysseys. With clear instructions included, Jedi-level confidence accompanies every step of this 593-piece journey to assembling your very own Boba Fett's Starship. Display this exceptional centerpiece with pride and bask in the admiration of your fellow builders.
A Galaxy of Joy Awaits
Since 1999, LEGO has pioneered in transforming the Star Wars universe into a tangible realm where fans can indulge in craftsmanship and storytelling. The LEGO Star Wars theme boasts an array of captivating sets for all ages, offering unique gifts and collectibles for die-hard enthusiasts or those looking to ignite their passion for the legendary saga.
Quality and Safety Assurance
Experience peace of mind while building your Boba Fett's Starship, knowing that all LEGO components adhere to rigorous industry standards for compatibility and secure connections. Additionally, rest assured that the bricks and pieces have undergone comprehensive testing to ensure they meet global safety standards.
In conclusion, the 75312 Boba Fett's Starship LEGO set is an invaluable addition to any Star Wars collection, allowing you to unleash your imagination within a beloved galaxy far, far away. Don't miss out on this opportunity to relive iconic moments from The Mandalorian series – or create entirely new adventures – with this fantastic buildable toy set.