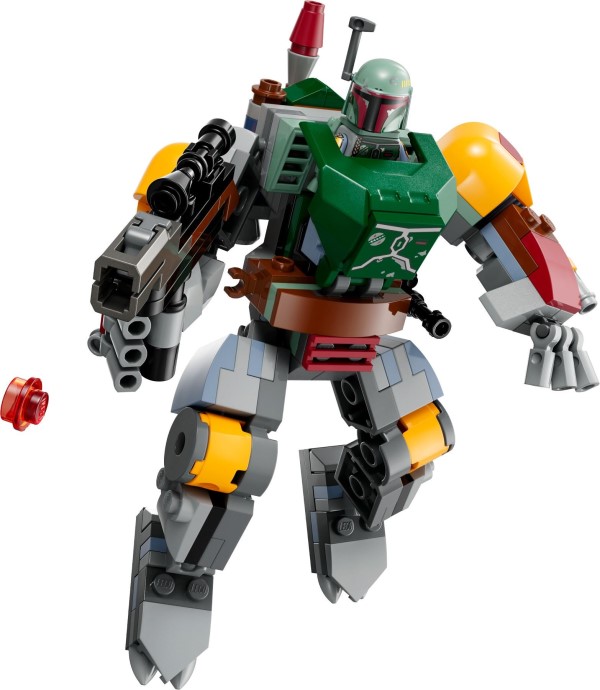 Introducing the Boba Fett Mech (75369) for Young LEGO® Star Wars™ Fans
Fans of Star Wars, gear up for an exciting experience with LEGO as they welcome a new pocket-friendly set to their ever-expanding universe – the Boba Fett Mech (75369). This remarkable themed construction toy promises endless adventure while paying tribute to one of the series' most iconic characters, Boba Fett. Catering to children aged 6 and above, this intriguing building set is not only fun but also a collector's dream.
Boba Fett Minifigure and Mech Suit: A Deadly Duo
The star of the show, Boba Fett, comes complete with his signature blaster rifle and jetpack accessory element. The accompanying posable mech suit ensures that no bounty remains uncollected, featuring an opening cockpit for the minifigure and a clip to secure his trusty weapon. The gripping hands hold a large stud-shooting blaster, while an imposing jetpack boasts a flick shooter for unparalleled action-packed playtime.
Mastering the Art of Building with LEGO Builder App
The LEGO Builder app enhances the overall building experience with its intuitive 3D instructions, zoom and rotate viewing tools, and other entertaining features. Assemble your very own brick-built mechanized Boba Fett in no time using this user-friendly platform!
Collect Them All: A Series of LEGO Star Wars Mechs
This valiant LEGO Star Wars collection doesn't end with Boba Fett! Expand your collection further by adding the fierce 75368 Darth Vader Mech and 75370 Stormtrooper Mech sets (sold separately) to your arsenal. Wage epic battles combining these fantastic mechanized warriors and flaunt your creativity in recreating iconic Star Wars scenes.
Gift of Galactic Proportions
Looking for a unique and affordable gift for the young Star Wars fan in your life? Surprise them with this thoughtful 155-piece LEGO set, perfect as a birthday, holiday, or special occasion present. With the Boba Fett Mech standing proudly at over 5 inches (13 cm) tall, this set can be exhibited as an impressive display piece in between action-filled play sessions.
LEGO Quality and Safety: Truly Exceptional
LEGO takes pride in upholding the highest quality and safety standards in the industry. By rigorously testing components to ensure they meet strict global safety requirements, you can have peace of mind knowing that these building sets are suitable for all ages and deliver consistently robust builds.
Bring home the captivating Boba Fett Mech (75369) LEGO set for both the young and young-at-heart passionate about all things Star Wars. Share in the joy of building as a family while nurturing your child's creativity, mastering construction skills, and building lasting memories through play.