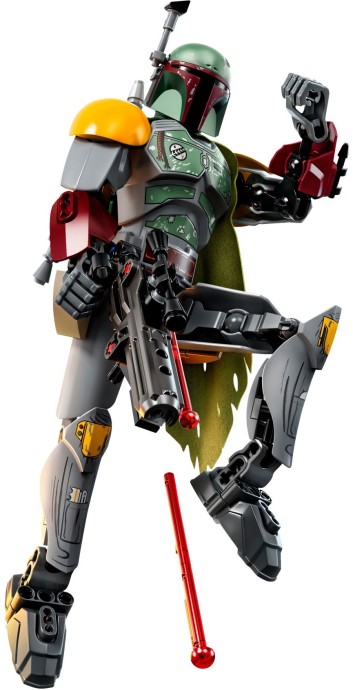 Unveiling the LEGO Boba Fett Buildable Figure Set 75533
The LEGO Star Wars collection continues to impress with the release of the 75533 Boba Fett Buildable Figure. This striking and highly-detailed set features one of the most iconic bounty hunters in the Star Wars saga. With its authentic details, unique color scheme, and countless play possibilities, you can embark on intergalactic bounty hunting missions or recreate important scenes from Star Wars: Return of the Jedi.
A Bounty Hunter like No Other
The Boba Fett figure is designed for fans aged 8-14, who can enjoy constructing this buildable and posable model from 144 LEGO pieces. The figure comes dressed in battle-scarred Mandalorian armor, completed with a textile cape and a movable helmet antenna/aiming device—truly capturing the essence of this legendary character.
Additionally, the kit features a new-for-January-2018 helmet design, inspired by Star Wars: Return of the Jedi. This SWTOR Series model boasts an intricate color scheme, perfectly accentuating Boba Fett's fearless persona.
Armed and Ready for Action
Track down elusive bounties with an arsenal of powerful weapons at your disposal. The 75533 Boba Fett set comes equipped with a spring-loaded blaster rifle and a jet pack integrated with a flick missile. These action-packed accessories make for thrilling shootouts and high-stakes battles between this skilled bounty hunter and his adversaries.
Durable Design for Intense Play
The sturdy design of the Boba Fett figure ensures it can withstand even the most intense action sequences. Explore various battle poses using its highly posable limbs, ideal for reliving unforgettable moments from Star Wars: Return of the Jedi. This LEGO Star Wars series creation stands over 9 inches (25cm) tall with its antenna extended, making it an impressive addition to any LEGO collection.
Embark on Your Own Star Wars Adventure
With this LEGO Star Wars 75533 Boba Fett Buildable Figure, you can create your own action-packed scenarios in the galaxy far, far away. Priced at £25.99 / $29.99 / 29.99€ and featuring a price-per-piece ratio of 18.0p / 20.8c / 20.8c, it makes an excellent gift for any Star Wars enthusiast or dedicated LEGO collector. Embody the fearless spirit of Boba Fett and embark on exciting adventures today!
Product Specs
Product Specs
Product Name:
Boba Fett
Pieces
144
RRP
£25.99 / $29.99 / 29.99€
Release Year
2018
Theme
Star Wars
Instructions
Lego Boba Fett Instructions