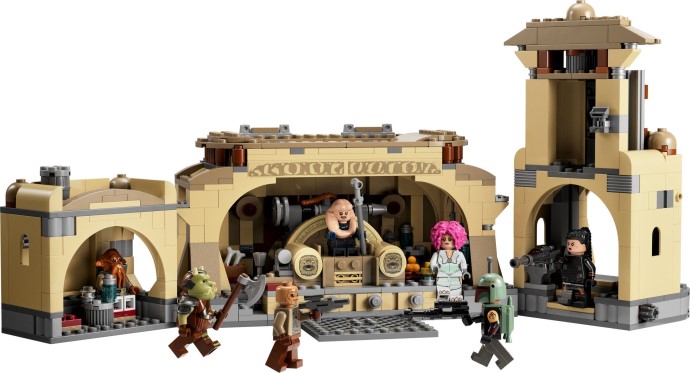 Take a Journey into Boba Fett's Throne Room with LEGO
Star Wars enthusiasts and LEGO fans alike will be thrilled to experience the Boba Fett's Throne Room SET_NUMBER (75326), a detailed buildable playset designed for ages 9 and up. This creative LEGO set from the Star Wars: The Book of Boba Fett subtheme brilliantly captures Jabba the Hutt's palace's throne room, along with other areas, such as the kitchen and barbecue space. Dive deep into the world of Star Wars with this immersive and adjustable LEGO set made by talented designer Jan Neergaard Olesen.
An Exquisite Build Inspired by The Book of Boba Fett
Every aspect of the throne room has been carefully considered in this richly designed model that boasts 732 pieces. Released in 2022, fans can bring their favorite scenes from The Book of Boba Fett to life. The brick-built palace easily opens up, providing swift access to intricate features like the throne with its concealed treasure compartment and tilting steps for dramatic effect. An opening gate and various fun accessories add an extra layer of excitement.
Incredible Minifigures and Accessories
Boba Fett's Throne Room wouldn't be complete without its iconic characters from the Star Wars universe. In addition to a brand-new-for-March-2022 Bib Fortuna figure, the set also comes with minifigures such as Theelin Dancer, Weequay Guard, Gamorrean Guard, and Quarren. Priced at £89.99/$99.99/99.99€, this set is a feast for any die-hard Star Wars fanatics.
Interactive Features for Dynamic Play
A plethora of interactive features awaits those who explore Boba Fett's Throne Room. Relish in the fun of using the pop-up function to eject Bib Fortuna from the throne, or take advantage of the shaking steps to topple a guard. Unfurl the front of the model or open its back for effortless access to a cozy kitchen and barbecue area adorned with a rotisserie. Delightful accessory elements such as spotchka drinks complete the experience, inviting builders to lose themselves in this enchanting world.
Gift this Unique Building Set for Any Special Occasion
This Star Wars-inspired LEGO set makes an ideal gift for fans celebrating their birthday, holidays, or special occasions. Unleash your friends' creativity through this 732-piece building toy that will keep them entertained and captivated for hours on end. And with dimensions of 48 x 28.2 x 7.4 cm (18.9 x 11.1 x 2.9 in), it also serves as an impressive display piece when not in use.
Exceptional Quality and Safety
As a part of the renowned LEGO® Star Wars™ collection, this buildable set meets stringent quality and safety standards, ensuring that every piece connects consistently and securely. LEGO bricks are tested rigorously to comply with global safety guidelines, making Boba Fett's Throne Room both a rewarding and secure building experience for fans of all ages.
Embark on an Epic Adventure with LEGO Star Wars
The Boba Fett's Throne Room (75326) LEGO set is just one of many highly detailed collectible sets inspired by scenes and characters from across the Star Wars universe. Do not miss out on experiencing this iconic playset – immerse yourself in the ultimate galaxy adventure with this enthralling LEGO masterpiece.