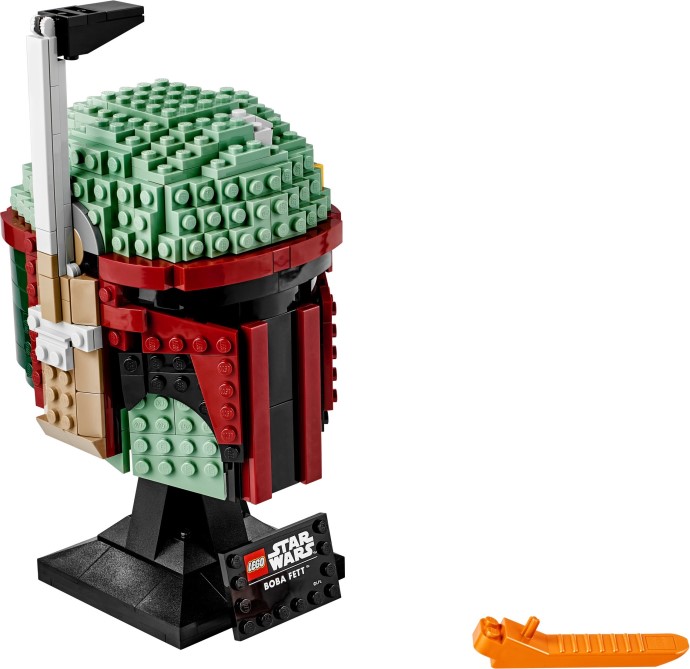 Discover the Intricacies of the LEGO Boba Fett Helmet
Delve into the captivating world of Star Wars™ with the highly detailed LEGO® Boba Fett Helmet (75277) – a stunning model kit that will take you on an enthralling building journey! Designed by the talented Niels M. Frederiksen, this 625-piece set brings to life one of the most feared bounty hunters in the galaxy, appealing to both fervent adult fans and adept LEGO builders. Released in 2020, this exceptional creation is perfect for display at home or office, enriching your collection with its striking appearance and intricate design.
An Enthralling Building Adventure
With a lucid step-by-step guide, even those new to LEGO® sets can confidently embark on this challenging project, assembling each piece to create an authentic and intricately detailed replica of the iconic Boba Fett helmet. Appreciate the marvelous form while enjoying a relaxing, battery-free, and stress-relieving construction experience that taps into your creative spirit.
Display-Worthy Design
The completed LEGO Boba Fett Helmet boasts not only impressive authenticity but also an unmistakable presence that will incite nostalgia and admiration among fellow Star Wars™ enthusiasts. Measuring 8.5" (21cm) high, 4.5" (11cm) wide, and 4.5" (11cm) deep, it's compact enough to fit comfortably in almost any space yet never fails to make an impact. Its accompanying base and nameplate only elevate its prominence, ensuring it remains a standout piece in your collection.
A Memorable Gift for Star Wars™ Fans
The LEGO® Star Wars™ Boba Fett Helmet makes for an unforgettable birthday gift, Christmas present, or surprise for fans aged 18 and above. Not only does it offer a thrilling building adventure, but it also serves as an excellent introduction for those new to LEGO Star Wars™. Participating in this enchanting theme will allow fans to engage with a vast array of captivating models and sets that have been enthralling builders since 1999.
Expand Your Collection
As part of the brilliant Helmet Collection, the Boba Fett Helmet is among other equally stunning models such as the Stormtrooper Helmet (75276) released in January 2020. Seize the opportunity to expand your horizons and embrace multiple facets of the majestic galaxy far, far away!
Excellence in Quality and Safety
Rest assured that each LEGO® brick included in this set meets the highest industry standards to ensure consistency and ease of connection. Rigorously tested for safety, you can have peace of mind knowing that your Boba Fett Helmet will withstand drops, heat, crushing or twisting, making it a durable addition to your collection.
Take a leap into the vast galaxy and bring home the LEGO® Boba Fett Helmet (75277) today – an exceptional model kit that offers an immersive building experience and a stunning display piece representing one of the most legendary characters in the Star Wars™ universe.