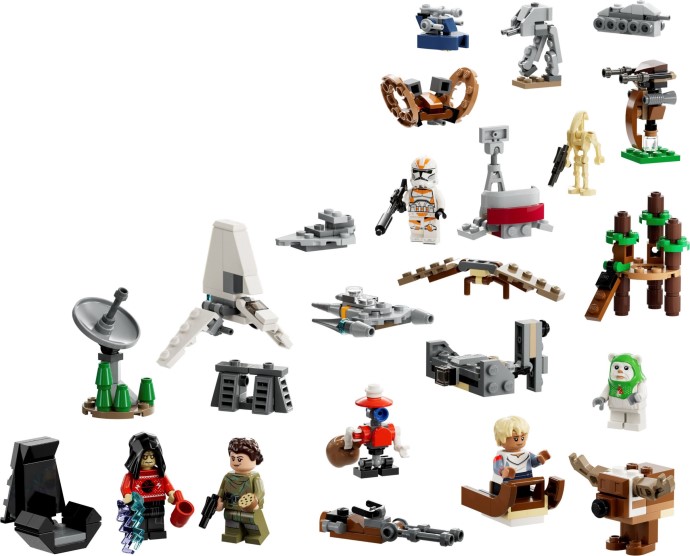 Discover the Magic of LEGO Star Wars Advent Calendar (75366)
Christmas is the season of joy, and what better way to celebrate than with the 2023 LEGO® Star Wars™ Advent Calendar (75366)? This delightful seasonal set promises hours of imaginative play and countless adventures for young Star Wars enthusiasts as they count down to Christmas. Filled with iconic characters, unique mini build toys, and accessories inspired by the legendary Star Wars universe, this Advent calendar is the perfect gift for fans aged 6 and older.
A Galaxy Full of Festive Surprises
The LEGO® Star Wars™ Advent Calendar (75366) offers a glimpse into an enchanting galaxy far, far away. This holiday-themed compilation features 8 stunning LEGO® Star Wars™ characters, dressed in their festive best. Emperor Palpatine, an Ewok, and a Pit Droid spread holiday cheer in their adorable costumes, while a Gonk Droid masquerades as a reindeer and Omega rides a sled. The set also comprises captivating stories from various Star Wars sagas such as Return of the Jedi, The Clone Wars, and The Bad Batch.
Mini Builds That Ignite Imaginations
Beyond its colorful characters, the 2023 LEGO® Star Wars™ Advent Calendar also showcases 15 awe-inspiring mini builds to spur creative minds. Younglings can embark on interstellar escapades with vehicles such as The Justifier, STAP speeder, The Mandalorian's N-1 Starfighter, Clone Command Center, and even an Ewok village! These intricately designed mini builds let kids relive epic moments from their favorite Star Wars movies and create countless new adventures in the process.
Enduring Legacy of LEGO® Star Wars™ Sets
Since 1999, The LEGO Group has tirelessly recreated the splendid Star Wars universe, crafting timeless starships, unforgettable vehicles, and enthralling characters. LEGO® Star Wars™ sets remain a popular choice for fans of all ages, offering an unparalleled opportunity to recreate iconic scenes, enact imaginative tales or simply display spectacular brick-built models.
Unparalleled Quality and Safety
LEGO® sets adhere to stringent quality standards and are constructed with care and precision. With simple, secure connections, these durable bricks ensure a premium building experience for all ages. Moreover, LEGO® components undergo rigorous testing, guaranteeing that they meet world-class safety standards—an assurance every parent can appreciate.
The Perfect Christmas Gift for Star Wars Fans
Gift the 320-piece LEGO® Star Wars™ Advent Calendar (75366) to kids aged 6 and up this festive season. Watch their eyes light up each day as they reveal intriguing characters and intricate mini builds and let their imaginations soar through the galaxy of Star Wars. This remarkable Advent calendar is destined to become a cherished holiday tradition for young fans and families alike.