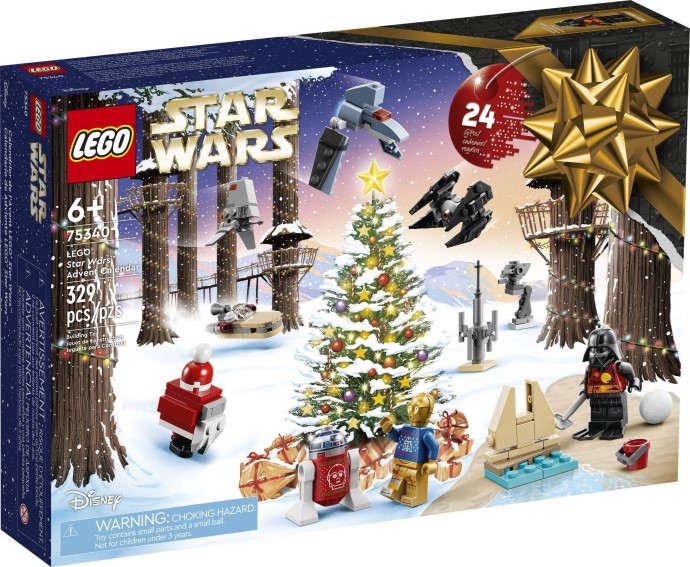 LEGO® Star Wars™ Advent Calendar 2022: A Galactic Countdown!
May the holiday season be with you! Star Wars and LEGO lovers unite as the 2022 LEGO® Star Wars™ Advent Calendar (75340) is finally here. Join a galaxy-wide countdown to Christmas and discover what surprises await behind each of the 24 doors. This winter wonderland toy set includes mini builds of festive vehicles, cute characters in themed apparel, and amusing scenes from a galaxy far, far away!
A Galaxy United in Yuletide Joy
The atmosphere of Star Wars has never been more different, yet exciting, with this seasonal offering. The charm of Star Wars combined with the cheer of the holidays proves to be a delightful experience to look forward to.
The Advent Calendar's design features key Star Wars characters all decked out for Christmas – C-3PO and R2-D2 can be seen wearing just-made themed holiday sweaters while wearing facial expressions that show they are excited for the day. Darth Vader may typically be clad in black armor and skywalker robes, but his Advent Calendar depiction shows him chilling out on a sandy Zeta-class cargo shuttle with his bodyguards donning matching beachwear.
Build Your Own Festive Scenes!
With this Advent Calendar, kids (and kids at heart!) can build and enjoy all kinds of joyous festive constructs such as iconic spaceships – Republic Gunship, Droid Trifighter, Acclamator Assault Ship – plus land vehicles such as Luke's Landspeeder, T-16 Skyhopper, V-35 Landspeeder alongside popular characters including Clone Trooper Commander, Snowtrooper, Battle Droid, and Gonk Droid treating itself in a Santa's hat. There six other mini build constructs kit that offer an amazing experience with the Hoth defense turret and an exciting Wampa cave to keep fans busy during the advent period. Also, a beach scene adding some sun reprieve.
A Festive Display Piece for Galaxy Fans Everywhere
Packaged similarly to a giant painting board or book, even just seeing this LEGO® Star Wars™ Advent Calendar can brighten up anybody's day. It provides an opportunity to test creativity, and the fun mini builds can be combined effortlessly with existing Star Wars sets.
Allowing kids aged 6 and above to explore their imagination by building an alternate galaxy at home. Whether collecting or assembling toys, the LEGO bricks and pieces are held up to rigorous world safety standards, ensuring they connect simply and securely allowing safe fun experiences.
Easily turn the LEGO® Star Wars™ Advent Calendar 2022 into a colorful center-of-attention display! With playful character representations, lively futuristic vehicle mini builds and fantastic seasonal constructs enriched by imaginative details – what's not to like!
The 2022 LEGO® Star Wars™ Advent Calendar is set at a recommended retail price point of £29.99 / $44.99 / 34.99€ giving you roughly 329 pieces of construction madness at your disposal this festive period!