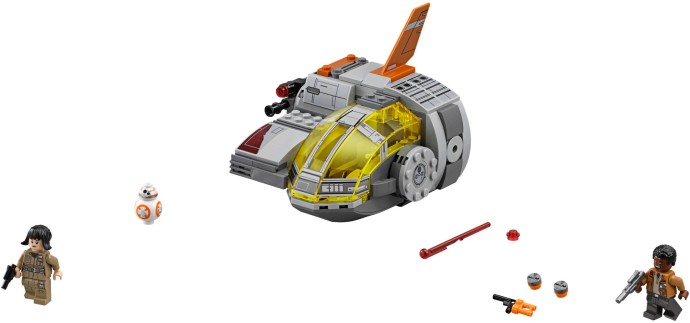 Explore the Resistance Transport Pod from Star Wars: The Last Jedi
LEGO® fans and Star Wars enthusiasts alike can enjoy recreating their favorite scenes with the highly detailed Resistance Transport Pod. Designed by ace LEGO® craftsman César Soares, this set is based on the transport vehicle from one of the most popular Star Wars films – Episode VIII: The Last Jedi. Launched in 2017 as a part of the Star Wars theme and The Last Jedi Subtheme, the Resistance Transport Pod consists of 294 buildable pieces, providing hours of creative fun for kids aged between 8 and 14.
Affordable Fun for Star Wars Enthusiasts
The Resistance Transport Pod's recommended retail price stands at a reasonable £39.99 in the UK, $29.99 in the US, and €39.99 in Europe. This makes the price per piece ratio quite affordable for collectors and young fans alike, working out to around 13.6p, 10.2c, and 13.6c respectively.
Engaging Build Experience
This intricate LEGO® set incorporates a multitude of exciting features designed to stimulate creativity and imagination among young builders. It has a two-minifigure cockpit with a removable canopy, detachable panels revealing a weapon store and storage space for BB-8, aimable side stud shooter, dual spring-loaded shooters underneath, and a hidden compartment for BB-8.
Action-packed Adventures with Beloved Characters
No Star Wars fan can resist recreating iconic film moments with their favorite characters. The Resistance Transport Pod Set features three minifigures – Finn, Rose, and the lovable droid BB-8. The set includes a blaster for Finn, shock gun for Rose, and a blaster pistol to engage in thrilling battles against the evil First Order.
A Compact Galactic Vehicle
Measuring 35.4 x 19.1 x 5.9 cm (13.9 x 7.5 x 2.3 in) and weighing a mere 0.43 kg (0.95 lbs.), the Resistance Transport Pod can fit comfortably on your display shelf without taking up much room. Ideal for play and display, this LEGO® Star Wars set is a fantastic addition to any collection.
Summary
In conclusion, the Resistance Transport Pod Set (SET_NUMBER: 75176) provides an affordable and engaging building experience for fans of LEGO® and Star Wars: Episode VIII — The Last Jedi. With fascinating features, beloved characters, and compact dimensions, this set makes a fantastic gift for young builders and collectors alike.