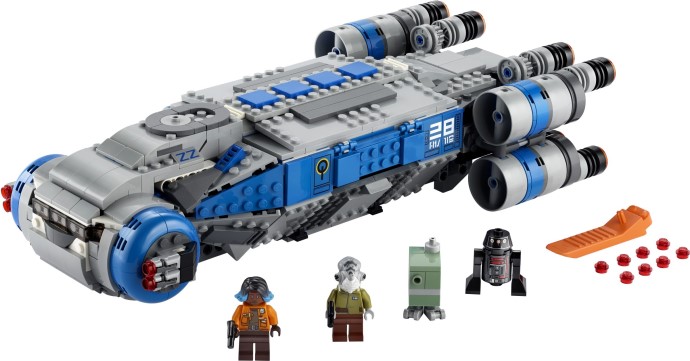 An Exciting Adventure with the LEGO® Resistance I-TS Transport Set
LEGO® enthusiasts and Star Wars fans alike will rejoice in the release of the Resistance I-TS Transport (75293) set, bringing adventure and creativity to a new level. Dive into a galaxy far, far away with this impressive model, designed for children aged 9 and above. Combining excellent playability with fantastic display elements, this set is sure to delight both young minds and adult collectors.
The Journey Begins at Galaxy's Edge
Fans of Star Wars: Galaxy's Edge at Walt Disney World Resort and Disneyland Resort can now recreate their favorite moments at home with the brilliantly designed LEGO® Resistance I-TS Transport. This captivating construction set features a functional design that opens for easy play, as well as 4 rotating stud shooters by the cockpit and 4 additional rear stud shooters to encourage hours of action-packed fun.
A Team of Heroes
Together with Lieutenant Bek, Vi Moradi, and some faithful droid companions – the Astromech Droid and GNK Power Droid – engage in epic battles for control over the galaxy. These richly detailed LEGO® minifigures elevate imaginative play while working solo or sharing adventures with friends. Combine this set with other LEGO Star Wars sets to maximize creativity while exploring endless possibilities within the universe.
A Gift Worth Giving
Containing an astonishing 932 pieces, the Resistance I-TS Transport set is an ideal birthday present or holiday gift for the young Jedi in your life. Robustly built to withstand even the toughest of battles, this centerpiece measures 35.4 x 37.8 x 9.4 cm (13.9 x 14.9 x 3.7 in), making it suitable for both playtime missions and display purposes. Its price per piece is value-for-money at 9.7p / 10.7c / 10.7c, giving you the perfect excuse to treat your loved ones.
Unleash the Power of Imagination
The Resistance I-TS Transport set utilizes only the power of your child's creativity while adding valuable STEM skills during construction and role-play. No batteries are needed for these galactic explorations. The illustrated step-by-step guide guarantees that even LEGO® beginners can embark on this incredible interstellar journey with ease.
Quality Meets Creativity
LEGO® has been consistently raising the bar since 1958, ensuring their products meet the highest industry standards in quality and safety. With its time-tested design, the LEGO Star Wars building sets continue to inspire children (and adult fans) to dream up extraordinary stories or recreate iconic scenes from the legendary saga. The Force is strong with LEGO®, making it a must-have addition to any collection.