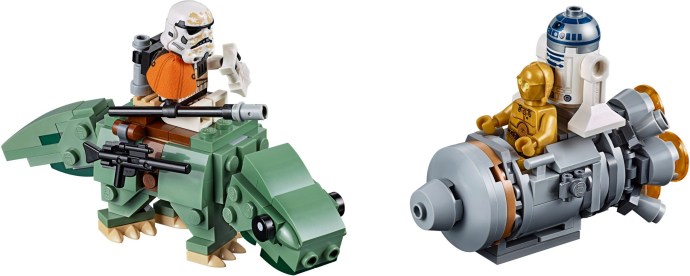 Discover the Epic LEGO Star Wars Escape Pod vs. Dewback Microfighters
Fans of the Star Wars universe will be thrilled with the LEGO 75228 set, featuring the exciting Escape Pod vs. Dewback Microfighters. This dual-pack building toy provides hours of imaginative play and adventure!
Join the Adventure with Iconic Star Wars Characters
The set includes two LEGO Star Wars minifigures – C-3PO and a Sandtrooper – as well as the droid R2-D2, allowing fans to recreate their favorite scenes from the beloved film series. Battle it out on Tatooine, the desert planet made famous in Star Wars: A New Hope, or create entirely new stories and adventures for these iconic characters.
Intricately Designed for Hours of Building Fun
The set features a buildable escape pod with impressive engine detailing, providing plenty of room for the C-3PO and R2-D2 figures. The Dewback creature is also an intricate build, featuring a posable head and tail, weapon attachment points, and space for the Sandtrooper to sit atop. Each model comes with separate building instructions to make sharing the build experience with friends and loved ones simple and enjoyable.
Accessory Elements Add Extra Excitement to Playtime
The accessory elements included with this set make playtime even more engaging. The Sandtrooper is equipped with electrobinoculars, a shock lance, and a blaster rifle. These authentic details bring dimension and depth to the LEGO Star Wars universe.
A Perfect Addition to Any Collection or Playroom
The LEGO Star Wars 75228 Escape Pod vs. Dewback Microfighters dual-pack building toy boasts 177 pieces and measures at 26.2 x 14.1 x 4.8 cm (10.3 x 5.6 x 1.9 in) when completed. The Dewback creature measures at over 1″ (4cm) high, 4″ (12cm) long, and 1″ (5cm) wide while the escape pod sizing is over 1″ (4cm) high, 3″ (8cm) long, and 1″ (4cm) wide. It's suitable for builders aged six and above and makes the perfect addition to any LEGO collection or Star Wars-themed playroom.
Affordable, Engaging, and Unique – A Must-Have for LEGO Star Wars Fans
With a retail price of £17.99 / $19.99 / 19.99€, the LEGO Star Wars 75228 Escape Pod vs. Dewback Microfighters set offers a unique play experience at an affordable price point. If you want to expand your collection or your collection, it can be combined with the LEGO Star Wars sets 75223 Naboo Starfighter Microfighter and 75224 Sith Infiltrator Microfighter for even more creative possibilities.
Created by designer Jan Neergaard Olesen and released in 2019 as part of the MicroFighters subtheme of LEGO Star Wars products, this set is a must-have for any die-hard fan!