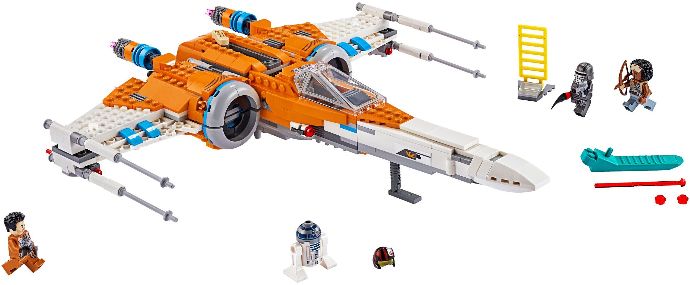 Discover the Magic of Poe Dameron's X-wing Fighter
Unleash your imagination and step into an intergalactic adventure with the LEGO Star Wars set number 75273, Poe Dameron's X-wing Fighter. This exceptional set allows you to experience the excitement of Star Wars: The Rise of Skywalker and join the Resistance heroes in their quest to defeat the First Order. Designed by Jan Neergaard Olesen, this fantastic set offers versatility, endless play possibilities, and an amazing building journey for young and adult fans alike!
A Masterpiece of Engineering
This cutting-edge X-wing fighter is sure to impress fans of all ages, featuring brand new design details inspired by the screen version in Star Wars: The Rise of Skywalker. With an incredible 761 pieces to build and multiple movable parts, you'll be amazed at how the pieces fit seamlessly together according to the remarkably detailed instructions.
Engaging Features for Play and Display
Poe Dameron's X-wing Fighter is fully packed with inspiring play features that will keep your children entertained for hours. The adjustable wings can shift between cruise and attack modes to reenact epic space battles, while retractable landing gear prepares it for a smooth docking process. Spruce up your collection by showcasing this elegant creation as a centerpiece when it's not blasting through missions!
Action-Packed Battles with Iconic Star Wars Characters
This stellar set includes 4 recognizable minifigures from the Star Wars universe: Poe Dameron himself, Knight of Ren, Jannah, and everyone's favorite astromech droid – R2-D2! Each character comes with unique features and accessories that enhance its on-screen authenticity, such as blaster pistols, a bowcaster, and other weapons for thrilling action scenes.
A Rewarding Building Challenge for All Ages
Designed for fans aged 9 and above, this Poe Dameron X-wing Fighter is an excellent gift idea and offers an enjoyable, challenging building experience for kids and adults alike. Combine the LEGO set with the Sith TIE Fighter (75273) for a captivating First Order vs. Resistance battle that will fuel your creativity and bring hours of enthralled playtime!
A Proud Legacy of LEGO Star Wars Sets
Since 1999, the LEGO Group has been delighting fans by creating brick-built versions of iconic Star Wars characters, vehicles, and locations. With multiple sets available, it's no wonder that this LEGO theme continues to captivate collectors and enthusiasts of all ages. Become part of this galaxy-spanning adventure – join the LEGO Star Wars community today!
In conclusion, Poe Dameron's X-wing Fighter (75273) LEGO set is a must-have addition for any Star Wars enthusiast or LEGO collector. With an exquisite design, interactive play features, and iconic minifigures, immerse yourself into the captivating world of Resistance heroes and relive unforgettable moments from Star Wars: The Rise of Skywalker. May the Force be with you!