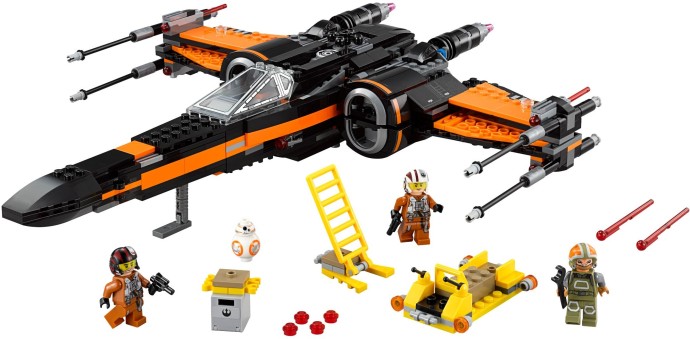 Experience Ultimate Adventure with Poe's X-Wing Fighter LEGO Set
Launched in 2015, the LEGO Star Wars set: Poe's X-Wing Fighter (Set Number 75102) has become a favorite amongst fans of the saga and LEGO enthusiasts. This thrilling intergalactic construction set, designed by the talented Jordan Scott, is based on the iconic spacecraft that appears in the Star Wars: The Force Awakens movie. Jam-packed with exciting features and authentic details, assembling Poe's X-Wing Fighter offers endless fun and adventure for children aged between 8 and 14.
Build Your Squadron
This exceptional LEGO Star Wars set comprises a whopping 717 pieces, allowing builders to explore their creativity and imagination while constructing the intricate X-Wing Fighter. At an affordable £69.99/$79.99/89.99€, you're paying approximately 9.8p/11.2c/12.6c per piece, making this set great value for your money.
Assemble Your Crew
Buckle up for some exciting adventures with the four minifigures included in this set: Poe Dameron, BB-8 Astromech Droid, a Resistance ground crew member, and a Resistance X-Wing pilot. Each character comes with its own unique set of weapons and accessories which enable builders to recreate iconic scenes from The Force Awakens.
Explore Authentic Features
Poe's X-Wing Fighter includes an impressive range of functional features that provide a lifelike building experience and hours of playtime adventures. Among these exciting capabilities are retractable landing gear, opening wings, an opening cockpit with space for one minifigure as well as additional room behind for BB-8 Astromech Droid.
Experience Action-Packed Battles
Armed with four spring-loaded shooters and two stud shooters, this starfighter is ready for epic battles against the forces of the First Order. Completing the set is a loader equipped with a weapon rack, extra missiles and ammunition, and a seat for a minifigure.
Compact Size for Display and Play
With dimensions of 48 x 28.2 x 6.1 cm (18.9 x 11.1 x 2.4 in) and weighing approximately 1.1Kg (2.42 lb), this LEGO Star Wars set is both compact and lightweight, making it perfect for display or easy transportation while recreating thrilling galactic adventures.
A Force to be Reckoned With
When completed, Poe's X-Wing Fighter measures over 4″ high, 14″ long and 12″ wide with its wings open. With wings closed, it stands at just over 3″ high, thus presenting an impressive visual impact. The LEGO Star Wars Poe's X-Wing Fighter set brings together creative construction and imagination in one galactic package that will keep builders entertained for hours on end.