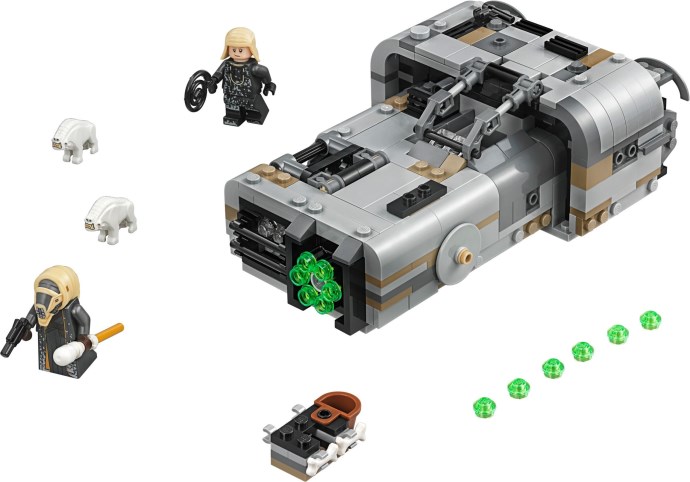 Experience Intergalactic Adventures with Moloch's Landspeeder
Unleash your inner Star Wars fan and embark on an interstellar journey with LEGO's Star Wars 75210 Moloch's Landspeeder set. This incredible vehicle, as seen in Solo: A Star Wars Story, is perfect for recreating your favorite heart-pounding scenes from the movie. The design and details of this set make it a must-have addition to your LEGO Star Wars collection, providing endless hours of fun and entertainment.
Built for Ultimate Action and Fun
Moloch's Landspeeder is designed for high-intensity action and engaging play. Featuring an open minifigure cockpit where the notorious gang leader can sit, a spacious rear storage hold, and hidden wheels that give the illusion of a cool hovering effect – this landspeeder is all about realistic design and immersive gameplay. The thrill of the chase has never been more exciting!
Arsenal of Weapons and Gadgets
LEGO Star Wars 75210 Moloch's Landspeeder set offers its unique 6-stud rapid shooter function, making it an ultimate combat vehicle. In addition to this powerful feature, the set includes Moloch's blaster pistol and Rebolt's whip, allowing you to recreate intense battles with their enemies. Unleash your creative side by imagining daring escapades and epic space showdowns with these fine details tailored for adventure!
Additional Creatures for Added Enjoyment
This LEGO building toy goes above and beyond by including two Corellian Hound figures alongside the main characters Moloch and Rebolt minifigures. These fearsome creatures are held in a cage that opens on Moloch's Landspeeder, injecting extra fun for any LEGO Star Wars fan—adding a unique twist on gameplay, strategy, and storytelling possibilities.
A Perfect Pairing
To maximize the fun, combine the Moloch's Landspeeder set with Han Solo's Landspeeder (75209) to fully recreate intense chase scenes from Solo: A Star Wars Story. A perfect pair for any Star Wars aficionado, these two sets are designed to complement each other seamlessly, bringing your LEGO galaxy to life. The possibilities are limitless!
Final Thoughts
With its intricate details, realistic design, and impressive dimensions (6cm high, 16cm long, and 11cm wide), the LEGO Star Wars 75210 Moloch's Landspeeder set is an exceptional addition to your collection. It provides endless action and adventure opportunities for fans aged 8-12 years old. Don't miss the chance to own this iconic piece of Star Wars history and create unforgettable memories that you'll cherish every time you build and play. May the Force be with you!