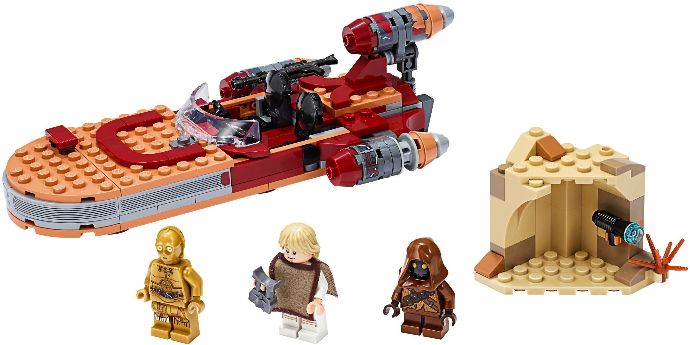 Discover the All-New Luke Skywalker's Landspeeder LEGO Set
It's time for a new adventure in a galaxy far, far away with the thrilling and all-new LEGO Star Wars Luke Skywalker's Landspeeder (75271) set. This remarkable building toy brings one of the most iconic vehicles from Star Wars Episode IV: A New Hope to life like never before. With Cesar Soares as its talented designer, this collectible set is perfect for both children aged 7+ and adult Star Wars enthusiasts alike.
Released in January 2020, this captivating construction set comes with a total of 236 LEGO pieces that provide hours of creative building fun. In addition to its reasonable retail price and favorable price per piece, the set also features an impressive range of minifigures and accessories that will inspire endless imaginative play scenarios. Let's dive deeper into the magnificent world of the Luke Skywalker's Landspeeder set.
Zoom through Tatooine with Style
Young Jedi builders can now relive exciting moments from the Star Wars universe by constructing Luke Skywalker's X-34 landspeeder. With its stunning level of detail, there is plenty of room for both the Luke and C-3PO minifigures to embark on amazing adventures. The landspeeder features an opening trunk containing macrobinoculars and a dedicated clip for Luke's blaster rifle.
Beyond its movie-inspired design and structure, this fabulous building toy also includes a buildable cave hideout where an armed Jawa minifigure awaits in anticipation. Kids can have tons of fun recreating various memorable scenes from Star Wars: A New Hope or unleash their creativity and come up with their own unique storylines.
Benefit from Intuitive Instructions PLUS
The LEGO Life app provides users with a brilliant way of accessing intuitive Instructions PLUS, which are designed to make constructing the Luke Skywalker's Landspeeder set even more enjoyable. The app allows younger builders to easily view, zoom in on, and rotate the construction model as they build. This makes the process more approachable and simpler for them to follow along with.
A Perfect Gift for Star Wars Fans of All Ages
Since 1999, LEGO has brought the incredible Star Wars universe to life through its myriad of iconic building sets. With this in mind, the LEGO Star Wars Luke Skywalker's Landspeeder (75271) set makes an excellent gift idea for loved ones of any age. Whether it's a birthday surprise or a Christmas present, this iconic landspeeder set is sure to put a smile on every recipient's face.
Embark on Your Next Interstellar Adventure Today
Don't miss out on the chance to add this epic and iconic set to your collection or offer it as a treasured gift to a loved one. Embrace the amazing world of LEGO Star Wars and dive into endless imaginative play with the astonishing Luke Skywalker's Landspeeder set today!