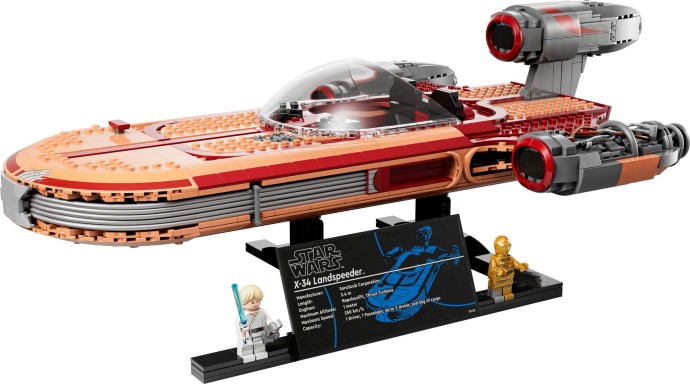 Introducing the Ultimate Collector Series: Luke Skywalker's Landspeeder
Get ready to embark on a nostalgic journey to Tatooine as you build the ultimate LEGO® Star Wars™ set – the Luke Skywalker's Landspeeder (75341). The iconic vehicle, first seen in Star Wars: A New Hope has been meticulously transformed into a stunning 1,890-piece set by renowned LEGO designer César Soares.
A Technical Marvel
The UCS Luke Skywalker's Landspeeder comes with two minifigures – Luke Skywalker and C-3PO, equipped with a lightsaber and electrobinoculars respectively, and a display stand that gives the hovering effect to the Brick-built centerpiece. The vehicle is beautifully designed with intricate details; from the cockpit windshield, cushioned seats to the turbine engine with its cover missing – everything is accurate to recreate the feel of the original movie. Plus, it comes with a plaque displaying X-34 Landspeeder technical data that brings even more authenticity.
A Trip Down Memory Lane
The UCS Luke's Landspeeder makes for a perfect gift for dedicated LEGO builders and collectors or Star Wars fans who love intricate DIY sets. With step-by-step instructions provided, it makes for not only a fun weekend project but also an ideal way for adults to bond over their love for both LEGO and Star Wars.
Premium Quality Guaranteed
All LEGO components comply with stringently regulated industry standards to ensure simple connective interaction between each piece. You may rest assured that when you purchase LEGO Star Wars sets aimed explicitly towards adult builders, all necessary safety standards will have been rigorously adhered to and met or exceeded written industry standards.
Landing Soon!
Don't miss out on the chance to get your hands on this collector's item. The LEGO Star Wars UCS Luke Skywalker's Landspeeder will be available from May 4, 2022, at an RRP of £209.99 / $239.99 / 239.99€ – a small price to pay for the ultimate Star Wars experience.