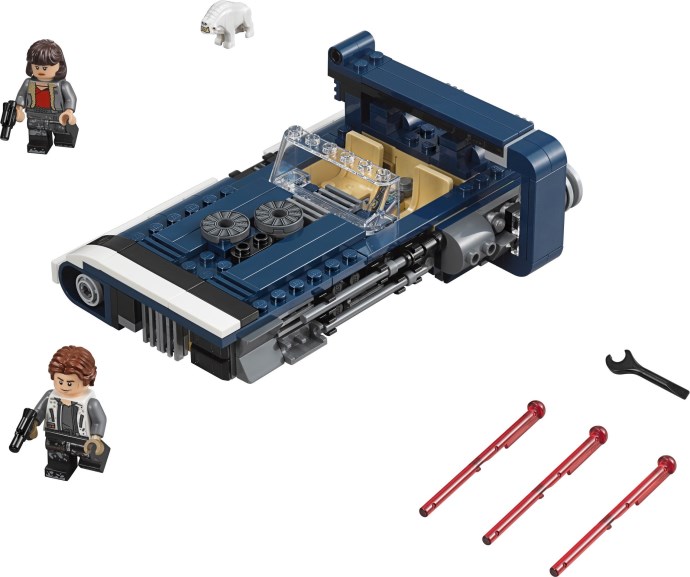 Experience the Thrill of Han Solo's Landspeeder
Dive into the galactic universe of Star Wars with the LEGO® set 75209, Han Solo's Landspeeder. Designed primarily for children aged 7 to 12, this thrilling and interactive playset transports you into the world of the iconic intergalactic smuggler, Han Solo and his trusted companion, Qi'ra.
Design and Features
This magnificent building set comprises a total of 345 pieces intricately designed to create an unforgettable play experience for die-hard Star Wars fans. The Landspeeder model features an open cockpit for two minifigures, including Han Solo himself and Qi'ra, complete with their blaster pistols. Delve even further into their adventures by battling the Corellian Hound figure included in the set.
Beyond its captivating exterior design, the Landspeeder boasts numerous play-friendly components such as an opening hood with storage compartments for ammunition and accessories, a removable engine, hidden wheels that offer a hovering effect, as well as two spring-loaded shooters on either side of the vehicle. The Landspeeder also has a secret cargo area hidden in the rear storage compartment.
Engaging Playtime Adventures
The level of fine detail and creativity invested in this LEGO® set perfectly encapsulates the exciting escapades that Han Solo and Qi'ra embark upon throughout the Star Wars saga. Bring home thrilling action-packed chase scenes from Solo: A Star Wars Story by pairing this set with another popular LEGO® release – Moloch's Landspeeder (75210).
Value for Money
This mesmerizing LEGO® Star Wars masterpiece comes at an attractive retail price of £25.99 / $29.99 / 29.99€. With the price per piece averaging at 7.5p / 8.7c / 8.7c, it makes for an affordable and enjoyable addition to any LEGO® or Star Wars collection.
Dimensions and Weight
The completed Han Solo's Landspeeder model measures an impressive 26.2 x 19.1 x 6.1 cm (10.3 x 7.5 x 2.4 in), and weighs a modest 0.42Kg (0.93 lb). This remarkably compact design allows for convenient storage and transportability, making it the perfect playset to bring along on your adventures.
A Timeless Addition to Your Collection
Originally released in April 2018, the LEGO® Han Solo's Landspeeder set remains a beloved addition to the collections of countless Star Wars enthusiasts around the world. Its enduring popularity is a testament to its spectacular design and boundless imagination, offering fans endless opportunities for recreating their favorite action scenes or inventing new stories entirely.
Dive into Han Solo's thrilling world with this exceptional LEGO® Star Wars playset – an adventure awaits!