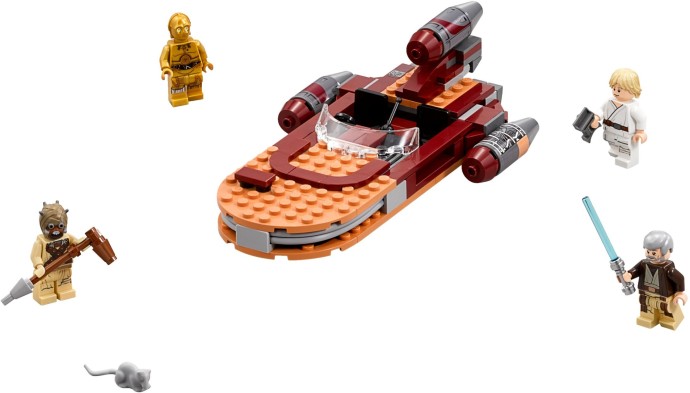 Discover the Charm of Luke's Landspeeder
Step back into the enchanting world of Star Wars with LEGO's iconic Luke's Landspeeder set. This captivating build brings to life some of the most memorable moments from Episode IV: A New Hope. Accompany young Luke Skywalker and his steadfast companion C-3PO as they explore the desert planet Tatooine and encounter the legendary hermit, Ben Kenobi.
An Iconic Design for Star Wars Enthusiasts
Luke's Landspeeder set stands out with its three-engine design and functional features. The open cockpit has room for two minifigures, making it perfect for recreating thrilling scenes from the film. Additionally, an opening trunk offers a compact space to place accessories such as electrobinoculars, enhancing the set's playability factor.
Dynamic Minifigures and Creatures
The set contains four minifigures that fans are sure to love: Luke Skywalker, Ben Kenobi, C-3PO, and a Tusken Raider. Each character comes with meticulous detailing and fine craftsmanship to ensure they remain true to their on-screen appearances. To top it off, there's even a womp rat figure thrown in to amp up the action level and showcase the nuances of Tatooine life.
Exciting Weapons and Accessories
Builders will delight in wielding Ben Kenobi's blue lightsaber or arming themselves with the Tusken Raider's bantha stick to recreate intense battle scenes. An abundance of accessory elements – including electrobinoculars and a womp rat – ensures that fans can weave together countless adventures while exploring Tatooine's unforgiving landscape.
An Age-Appropriate Galaxy Far Far Away
The LEGO Star Wars Luke's Landspeeder set is designed for builders aged 7 to 12, ensuring an enjoyable yet challenging experience that balances creativity and complexity. With 149 expertly crafted pieces, the finished structure measures at 5cm high, 18cm long, and 11cm wide. The price per piece ratio—13.4p in the UK, 13.4c in the US, and 20.1c in Europe—is relatively affordable for a set of this calibre.
A Timeless Star Wars Adventure
In conclusion, LEGO Star Wars Luke's Landspeeder set offers an engaging and entertaining experience that faithfully captures the magic of Episode IV: A New Hope. Whether it's for a youngster diving into the realm of Star Wars for the first time or an experienced builder eager to expand their collection, this set is sure to be adored by fans of all ages.