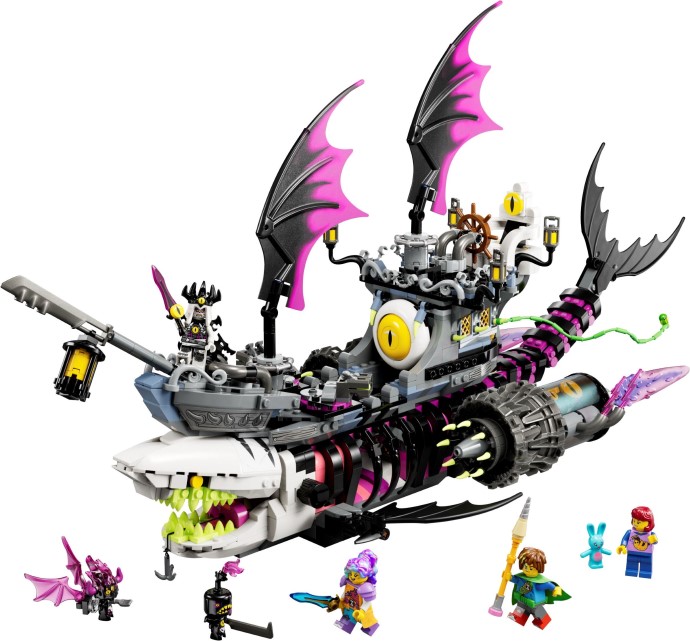 Explore the Dream World with LEGO® Nightmare Shark Ship
Welcome aboard the fantastic and fantasy-driven LEGO® Dreamzzz™ Nightmare Shark Ship building set. Suitable for imaginative seafarers aged 10 and up, this adventurous set thrusts you into the heart of the dream world action.
In this fantascape, protagonist Izzie has her favourite stuffed toy captured by the ominous Night Hunter. What's more intriguing is that the plushie is morphed with a pirate ship, creating a chilling monster vehicle – a Nightmare Shark Ship. The challenge lies in building this monstrous vessel, and thankfully, it isn't as terrifying as it sounds!
A Double Dose of Creativity
The Nightmare Shark Ship set is wonderfully versatile, presenting two unique construction styles – one that allows you to imitate a traditional ship and another assuming the form of an armoured tank. Opt for the nautical route to reveal powerful engines and sails or switch things up with the tank mode featuring quirky accessories and hovering eyeballs!
This dual approach to design sparks your creativity, urging you to think outside the brick box. Additionally, it gives you twice the playtime fun and flexibility while exploring various aspects of your LEGO® model.
Unleashing Playful Features
The Shark Ship is crammed with intriguing functionalities. Open its enormous jaw to make room for a mini-figure or push hidden buttons to unveil a secret treasure chest. Better yet, remove its detachable rear cabin or engage with swivelling turrets poised for action.
Set at its core is a cage with a looming trapdoor – perfect for capturing enemy minifigures! Each element sparks curiosity, guaranteeing countless captivating scenarios for young LEGO® enthusiasts.
Bursting With Life
Breathe life into your playtime with detailed minifigures like Mateo, Izzie, Nova, and the formidable Nightmare King — sure to transform every adventure into an epic tale to remember.
Embarking on New Adventures
With its grandeur size measuring 12.5 inches high, 23.5 inches long, and 10 inches wide, the LEGO® Nightmare Shark Ship becomes more than just a toy; it's an immersive portal into the universe of Dream Chasers! Combine your build with others from your collection or venture solo — either way guarantees hours of thrilling stories.
User-Friendly Experience
The LEGO® DREAMZzz™ Nightmare Shark Ship comes with story-led instructions that are easy to follow. Plus, if you fancy digitally interactive methods, locate them on the LEGO® Builder app. Trust in LEGO®'s flawless connection system for a premium building experience and rest assured knowing every single piece has been tested extensively for safety standards.
Unleash your spirit of adventure and step into the awe-inspiring world of dreams with LEGO® DREAMZzz™ Nightmare Shark Ship!