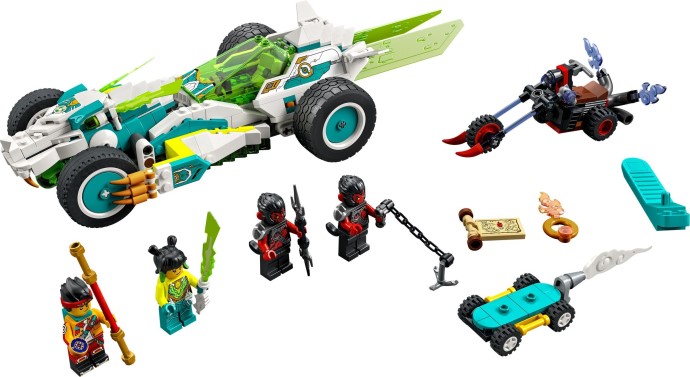 Introducing the Majestic Mei's Dragon Car from LEGO® Monkie Kid™
Get ready to ignite your child's imagination with the new, exciting LEGO® Monkie Kid™ playset – Mei's Dragon Car (SET_NUMBER: 80031). Coming from none other than the intriguing world of the MONKIE KID theme's third season, this playset promises grand adventures and epic battles. Perfect for kids above the age of seven, this vibrant set can be a boon in nurturing their creative minds.
Mark Your Calendar: Launch and Retirement Dates
Starting off on a thrilling journey with the LEGO® Monkie Kid™ on January 01, 2022, this dynamic set will continue to be available for the whole year until December 31, 2022. Make sure you make the most of this period to bring home this fabulous toy for your little ones.
An Inside Look: Set Elements and Minifigures
A generous collection of 456 pieces is what comprises this wonderful set. Build the magnificent Mei's Dragon Car featuring a spring-loaded shooter, an opening cockpit for minifigures and new-for-2022 radiant neon-yellow LEGO elements. The unique design of Mei's vehicle catapults extravagant storytelling and role-playing scenarios in kids' imagination.
The splendid minifigures provided in the set include Mei, Monkie Kid and two Shadow Monkey characters. Armed with fabulous accessories and powerful weapons like The Golden Staff and Jade Dragon Blade, these minifigures give a fascinating edge to the imaginative battles kids can concoct.
The Price: A Look at Your Investment
This remarkable playset comes with a retail price worth its exhilarating play potential – £34.99 / $49.99 / 39.99€ and guarantees joyous hours of imaginative creation for your little ones. The cost per piece stands at an attractive price of 7.7p / 11.0c / 8.8c offering great value for your investment.
Ease of Building: Digital Instructions
The set comes with bundled step-by-step instructions making construction fun and breezy for young builders. You can also leverage the free LEGO Building Instructions app that includes zoom and rotate viewing tools to make building an even more enjoyable experience.
Crafting Tales through Play
LEGO Monkie Kid toys are not just about sparking creativity but also inculcate some educational aspects using classic tales from Journey to the West novel as a foundation stone. This unique blend of storytelling, action-oriented play, and constructive recreation is Lego® specialty – just one among many reasons why we adore them!
So get ready to enter a world of epic battles and larger-than-life heroes with Mei's Dragon Car set! Invite imagination into your home now!