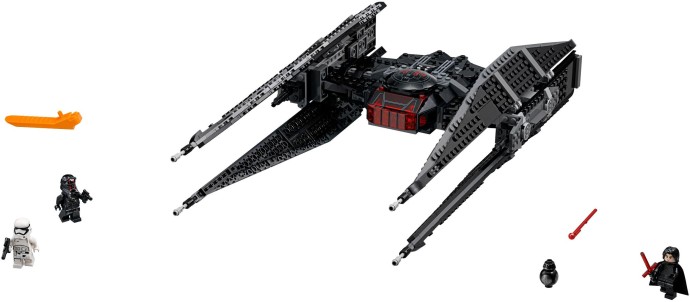 Explore Kylo Ren's TIE Fighter with LEGO Set 75179
For fans of the Star Wars universe, LEGO set 75179 titled "Kylo Ren's TIE Fighter" is a must-have addition to their collection. This intricate model transports you to the thrilling world of Star Wars: Episode VIII and enables you to recreate intense battle scenes from The Last Jedi. Launched in September 2017, this set is comprised of 630 high-quality LEGO pieces and features an age range of 8 to 14 years old.
A Closer Look at the LEGO Recreation of Kylo Ren's Iconic Starfighter
This LEGO Star Wars set presents a visually stunning model of Kylo Ren's personal spacecraft. With its sizable wings, red exhaust detailing, and sleek design, it effortlessly captures the essence of this powerful vessel. The TIE Fighter features an opening cockpit that comfortably accommodates the included minifigures, allowing them to be displayed or removed for seamless playtime.
The model also boasts trigger-activated spring-loaded shooters, enhancing its play value and providing endless fun as you target enemies and engage in epic space battles. Measuring 4 inches (12cm) high, 16 inches (41cm) long, and 9 inches (23cm) wide, this robust build offers hours of engaging and immersive entertainment.
Exciting Minifigures and Accessories
This LEGO Set goes above and beyond by including not only Kylo Ren's TIE Fighter but also four exclusive minifigures. Alongside Kylo Ren himself, you'll find a First Order TIE Pilot adorned with a new-for-September-2017 decorated helmet featuring eye-catching red stripes, a First Order Stormtrooper equipped with a blaster, and the fan-favorite spherical droid BB-9E.
Weapons featured in this set include Kylo Ren's intricately designed Lightsaber, a blaster pistol, and a larger blaster for the Stormtrooper. These elements add authenticity to your Star Wars play scenarios, inviting you to immerse yourself in the enthralling universe created by LEGO.
Value and Availability
The LEGO Kylo Ren's TIE Fighter set originally retailed at £74.99 / $79.99 / 79.99€, with a price-per-piece calculation of 11.9p / 12.7c / 12.7c — indicative of great value for the durable, high-quality components included in the box. This sought-after set was available on the market between its launch date of September 1st, 2017, and December 31st, 2018.
Conclusion
In summary, LEGO set 75179: Kylo Ren's TIE Fighter offers an unrivaled experience for Star Wars aficionados and LEGO enthusiasts alike. Its intricate design and detailed minifigures make it both an engaging collectible and a fantastic playset. Don't miss your chance to embrace the dark side with this iconic model from The Last Jedi!