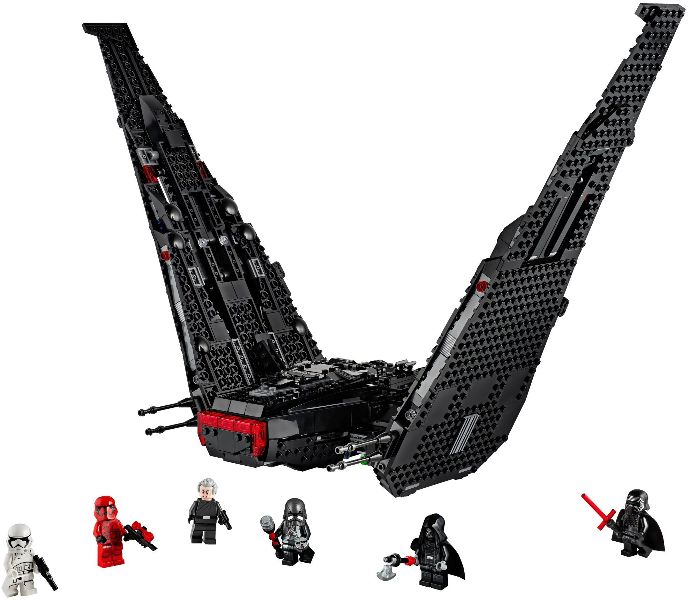 Discover the Magic of LEGO® Star Wars™ 75256 Kylo Ren's Shuttle
LEGO® enthusiasts and Star Wars™ fans alike, buckle up for an exhilarating ride with the 75256 Kylo Ren's Shuttle! This magnificent creation is a brick-built version of the Supreme Leader's personal transport ship from the Star Wars: The Rise of Skywalker movie. Boasting authentic details and numerous features that evoke life-like experiences, this set is ideal for kids and collectors who desire to recreate thrilling space adventures. Let's take a closer look at what makes this LEGO® Star Wars™ set so captivating.
Highly Detailed Design by Jan Neergaard Olesen
Designed by Jan Neergaard Olesen, the Kylo Ren's Shuttle incorporates 1005 pieces that deliver a satisfying building experience. Assembled, this majestic ship flaunts dimensions of 48 x 37.8 x 9.4 cm (18.9 x 14.9 x 3.7 in), making it a stunning addition to any LEGO® Star Wars™ collection. Recommended for ages 10 and above, it promises hours of immersive playtime for kids and grown-ups alike.
Intriguing Features of 75256 Kylo Ren's Shuttle
The formidable transport ship comes to life with various features that encourage role-play scenarios inspired by the iconic movie. These include rotatable right engine for folding in wings during landing, adjustable wings by folding the top part down, opening access ramp, and a cockpit with enough space to accommodate Supreme Leader Kylo Ren along with two other minifigures. Furthermore, engage in action-packed battles with the ship's two spring-loaded shooters!
Minifigures and Weapons for Immersive Play Action
The 75256 Kylo Ren's Shuttle set excels not only in its remarkable structure but also in its thrilling set of minifigures and weapons. The set includes 6 LEGO® Star Wars™ minifigures, notably Supreme Leader Kylo Ren, General Pryde, a Sith Trooper, a First Order Stormtrooper, and 2 Knights of Ren which entice instant play. The weapons range from Kylo Ren's Lightsaber to General Pryde's blaster pistol, the Sith Trooper's blaster rifle, the First Order Stormtrooper's blaster, and the Knights of Ren's axe and mace. Adding to the allure is the new-for-October-2019 Knight of Ren helmet design.
Pricing Information and Value
With a recommended retail price of £99.99 / $129.99 / 119.99€, the Kylo Ren's Shuttle offers exceptional value with a cost per piece ranging from 9.9p to 12.9c. This fantastic LEGO® Star Wars™ set makes an excellent gift for birthdays, Christmas or any special occasion that will leave a lasting impression on any lucky recipient!
Embark on Stellar Adventures with LEGO® Star Wars™
LEGO® Star Wars™ 75256 Kylo Ren's Shuttle is undoubtedly a must-have addition to any collection! Its enthralling design, coupled with engaging features and action-packed minifigures, ensures hours of memorable playtime for passionate fans. So grab your Lightsabers and embark on an unforgettable space-faring adventure with Supreme Leader Ren at the helm!