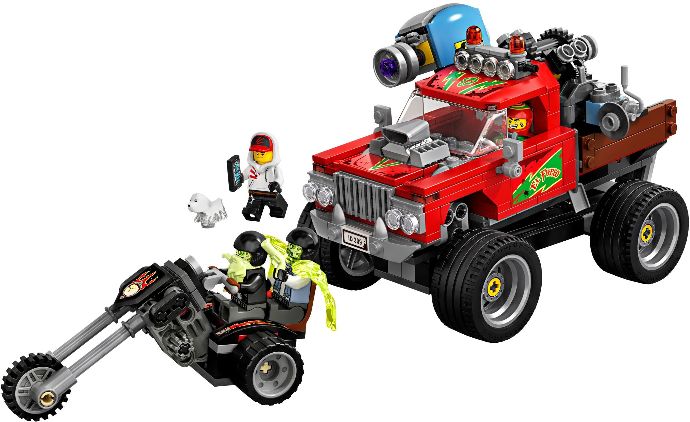 Unearthing the Magic of El Fuego's Stunt Truck LEGO® Set
Are you in search of a toy that not only offers an enriching building experience but also bridges the gap between physical play and digital enjoyment? The Hidden Side™ 70421 El Fuego's Stunt Truck, an innovative product from LEGO®, brings to life a captivating augmented reality (AR) experience that will undoubtedly captivate kids above the age of 8. Released in August 2019, this blend of traditional brick-assembly fun and today's cutting-edge technology invites young adventurers into a mystical world teeming with action, secrets, and – hold onto your hats – ghosts!
An Intriguing Twist to the Classic LEGO® Experience
This standout set is part of LEGO®'s 'Hidden Side™', a collection designed with the fictional town of Newbury in mind. Newbury is not your average town; it has an eerie side, with phantoms haunting its inhabitants and structures. Unbox this set, and you'll find yourself on a mission to quash these supernatural nuisances straight away. Assembling the set provides half the fun – the real adventure commences when you interact with the build using the Hidden Side app. As you scan your assembled model, it mystically metamorphoses on your screen, revealing a hidden universe bursting with challenges, riddles, and ghost bosses waiting to be defeated.
The Marvellous Mechanics of El Fuego's Stunt Truck
The centerpiece of this phenomenal set is no other than El Fuego's Stunt Truck itself. Engineered with working rear suspension, it is ready to execute dramatic stunts and astounding jumps right off the box. Notably large in size at over 3" (10cm) high, 3" (10cm) wide and 6" (17cm) long, there's ample room for two characters inside its cabin. Additionally, at its rear rests a mounted toy cannon waiting to be launched against any unsuspecting phantom.
Discover your Ghost Hunting Crew
What good would a ghost-hunting expedition be without a team? Unleash your inner ghost catcher with minifigures: Jack Davids – the heroic protagonist and El Fuego -the flamboyant stuntman. Accompanying them are male biker Dwayne, female biker Joey, and not forgetting Spencer – Davids's adorable spectral hound. These four vigilantes can join forces inside their heavy-duty truck or aboard their fantastic 3-wheel motorcycle chopper for some thrill-filled chases.
Relishing an Unction Entity in Brick Building
No more just fitting brick-to-brick; engaging with LEGO® photography on your phone or tablet weaves layers of interactive gameplay into the mix. The download-ready Hidden Side app epitomizes this remarkable convergence between traditional toys and contemporary technology. Regular updates keep intriguing mysteries popping up while novel ghost bosses up the ante every time they show face.
Please note that for full magic unfolding AR gaming you'll need either tablet or mobile phone which are not included in this set.
In conclusion, El Fuego's Stunt Truck is more than just another LEGO® set. With its amazing physical-digital fusion play offering stimulating adventures and exciting explorations; this dynamic package beckons lovers of stunts, actions figures, trucks or simply those who love having fun!