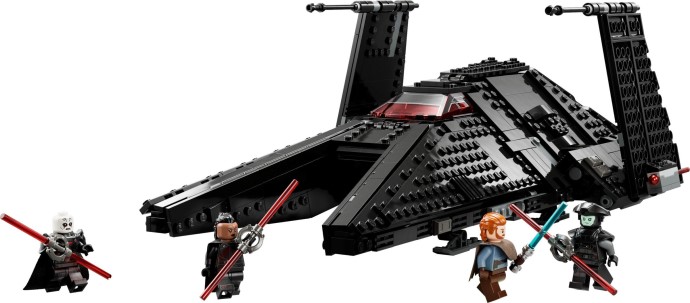 Inquisitor Transport Scythe: A Must-Have LEGO® Star Wars™ Ship
Journey into the Star Wars universe with the Inquisitor Transport Scythe (75336), the perfect addition to any avid LEGO® Star Wars™ fan's collection. Featuring stunning details and a lineup of iconic characters, this set is sure to inspire hours of play and creative storytelling.
Unleash Your Inner Jedi Hunter
Incorporating elements from the highly anticipated Star Wars: Obi-Wan Kenobi series, this set provides builders with the opportunity to recreate thrilling Jedi-hunting missions. The intricate buildable toy starship showcases adjustable wings for seamless transition between flight and landing modes. Additionally, two spring-loaded shooters and an access ramp provide thrilling play opportunities for young explorers.
Cockpit Details and Minifigure Fun
The Inquisitor Transport Scythe doesn't skimp on interior details – its cockpit opens easily to reveal a carefully crafted space complete with three minifigure seats and storage clips for lightsabers. This marvelous set includes four LEGO minifigures: Ben Kenobi, the Grand Inquisitor, Reva (Third Sister), and the Fifth Brother, each armed with lightsaber weapons to fuel imaginative role-playing adventures.
Enhance Your Building Experience
Designed by Hans Burkhard Schlömer, this 924-piece set caters to trendsetting kids aged 9 and up. The printed building instructions are straightforward and easy to follow, but builders can also use the LEGO Building Instructions app for a digital experience with zoom and rotate viewing tools, adding an extra layer of immersion to the process.
A Gift Idea That Goes Beyond the Galaxy
If you're searching for a stellar gift for the Star Wars aficionado in your life, look no further. Inquisitor Transport Scythe (75336) combines creative building challenges with iconic characters and impressive ship features. With its 924 pieces and a size of 48 x 28.2 x 7.4 cm (18.9 x 11.1 x 2.9 in), it makes for both an engaging playtime experience and an eye-catching display piece between bouts of galactic action.
Quality and Safety Assured
As with all LEGO® sets, the Inquisitor Transport Scythe is crafted to meet the highest quality standards. This ensures compatibility, secure connections, and compliance with global safety standards. With its exciting features, detailed designs, and beloved character minifigures, this set is a worthy addition to any Star Wars fan's collection.
Unleash the Power of the Force
The LEGO® Star Wars™ Inquisitor Transport Scythe (75336) offers young Jedi hunters endless possibilities to engage their imagination through play. Whether reliving iconic moments from the Star Wars: Obi-Wan Kenobi series or crafting their own interstellar adventures, builders will cherish this impressive and versatile ship for years to come. Don't miss this opportunity to add a piece of the galaxy to your collection!