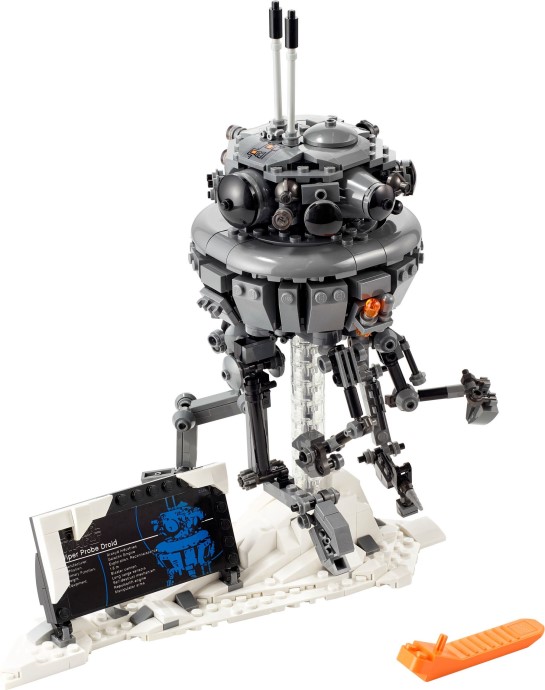 Explore the Intricate World of SET_NAME: Imperial Probe Droid
Calling all Star Wars enthusiasts and LEGO collectors! The highly-detailed Imperial Probe Droid (75306) offers a premium building experience, transporting builders to the ice planet Hoth while creating a stunning centerpiece that sparks memories from Episode V of Star Wars: The Empire Strikes Back.
Unparalleled Design and Awe-inspiring Aesthetics
Designed by Jan Neergaard Olesen, and released in 2021, the Imperial Probe Droid set is a part of the much-loved Star Wars theme, with a special focus on Episode V. Comprising 683 elegant pieces and intended for ages 18+, this LEGO masterpiece provides an engaging and intricate construction process, guaranteed to deliver enjoyment and satisfaction throughout the build.
A Display Piece that Captivates and Impresses
With every distinctive detail staying true to classic Star Wars fashion, the finished model measures 19.1 x 35.4 x 9.1 cm (7.5 x 13.9 x 3.6 in), making it an ideal choice for adorning office desks or mantelpieces at home. The posable legs on the droid add an element of dynamism, while the transparent, brick-built pole 'suspends' it above an enchanting snowy scene. Complete with an information plaque, this astonishing display piece showcases its timeless appeal.
A Gift that Creates Lasting Memories
A seamless balance between complexity and rewards, this Imperial Probe Droid set is an extraordinary choice as a birthday or holiday present for Star Wars connoisseurs or experienced LEGO lovers. With easy-to-follow step-by-step instructions included with the purchase, even newcomers to the world of LEGO will be able to confidently construct this detailed model.
Dependable Quality and Uncompromising Safety
As part of LEGO's premium-quality Star Wars collectible line, the components of this elaborate set are designed to meet industry standards, ensuring a strong connection every time. The durability and safety of LEGO bricks and pieces are tested rigorously through drops, heat exposure, crushing, twisting, and analysis. As a result, builders can be confident in the top-notch quality and strict global safety standards that accompany this incredible Imperial Probe Droid.
Discover a World Beyond Imagination with the Imperial Probe Droid
With its impressive scale, intricate design, and excellent build quality, the Imperial Probe Droid (75306) is a must-have in any Star Wars or LEGO enthusiast's collection. Dive into an immersive building experience and create lasting memories while assembling this iconic piece of the Star Wars universe. May the Force be with you!