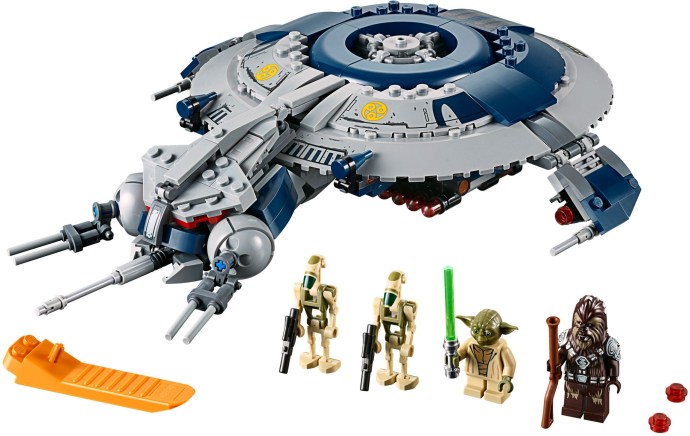 Discover the Exciting World of the Droid Gunship (75233) LEGO Set
Enter the fascinating galaxy of Star Wars with the LEGO 75233 Droid Gunship set. Inspired by the Episode III film, this construction set is an essential addition to any LEGO Star Wars collection. Designed by Hans Burkhard Schlömer and released in 2019, the set has 389 pieces and is suitable for children aged 8 and up.
Affordable Fun for LEGO Enthusiasts
Priced at £54.99 / $49.99 / 59.99€, the cost per piece is just 14.1p / 12.9c / 15.4c, making it a great value option for supporters looking to expand their LEGO Star Wars universe. The set also comes with four minifigures – Yoda, Chief Tarfful, and two Kashyyyk Battle Droids – along with additional weapons and accessories like Yoda's green lightsaber and blasters for the droids.
Features of the Droid Gunship Set
This incredibly detailed model boasts an array of impressive features that will captivate both children and adult fans alike. The opening cockpit provides enough space for a Kashyyyk Battle Droid LEGO figure to command the ship. Additionally, lowering landing gear and non-firing directional cannons at the front help bring this construction toy to life.
But perhaps the most exciting aspect of this set is its firepower capabilities – eight flick missiles and two wing-mounted stud shooters guarantee an action-packed adventure every time you play. Combine it with other LEGO Star Wars sets like the 75234 AT-AP Walker and create epic battles from The Revenge of the Sith!
New Additions to LEGO Star Wars
The 75233 Droid Gunship set comes with some new-for-January-2019 updates, such as the redesigned head decoration and torso color for the Battle Droids. Fans can immerse themselves in the world of Star Wars by recreating their favorite battle scenes or inventing new, exciting stories with these iconic characters and vehicles.
Experience the Magic of LEGO Star Wars
If you're a LEGO enthusiast or a Star Wars fanatic, don't miss the opportunity to add this stunning 75233 Droid Gunship set to your collection. With its engaging features, affordably priced brick count, and opportunities for creative play, you'll be transported into a galaxy far, far away every time you sit down to build.